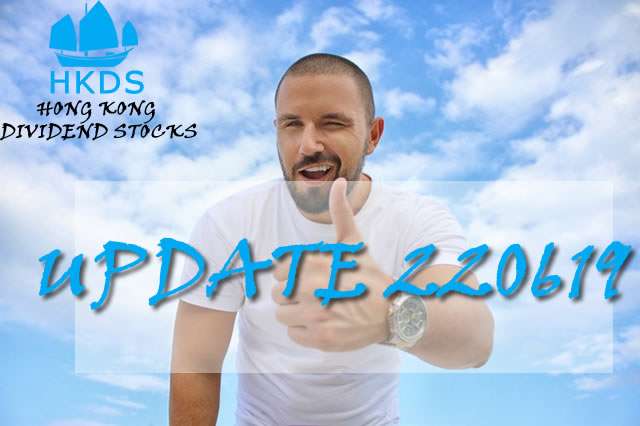 5 mins read
220619 Update Hong Kong Dividend Growth Stocks
This is the newsletter you get if you sign up (FREE) below to see the stock screeners favorite this week. You also get to immediately download the 25 highest yield Dividend Growth Stocks.
If you need a deeper level and full spectrum of all Dividend Growth Stocks and Blue Chip Stocks of Hong Kong including the stock screener to optimize your (or your clients portfolio), it is recommend to become a Champion member.
Happy Sunday!
Let's talk Market turbulence.
Last week we saw things are shaking in stock markets and crypto currencies. People lost a lot of money.
And truth is, stock prices can be unpredictable for reasons unknown.
That sounds scary. But fear not, brave dividend growing reader.
Here is the good news:
What we do know to a high degree of certainty is that for example CKI Holdings HKG:1038 is going to pay their shareholders an interim dividend of HK$0.69 or more!
What their stock price is going to do, we can not know. But with companies like this one, we can be reasonably confident that they are going to raise their dividends year upon year.
And that is the beauty & magic of Dividend Growth investing. Cash flow
For some inspiration look at these beautiful charts
These are exactly those companies that without failure pay their shareholders more dividends year after year.
No.Matter.Wat
Researching stocks that bring you an increasing cash flow is what we do.
All these stocks are packed in the Directory. This is an easy to understand overview of all companies that have
5 years or more of dividend increases
5 yr dividend growth rate of 0.001 or higher.
So you save a huge amount of time in your research to find the right stocks that are eligible for your cash flow generating portfolio.
The Directory is part of the Champion Membership and updated weekly. There is even an easy-to-use stock screener build in, so out of all dividend growth stocks you see in 1 second how they perform on dividend growth, Risk and Value.
Just to make your life easier.
Based on a lot of data we look for good opportunities for Dividend Income creation and Value Investing .  (Dividend Growth, Risk of not getting any Dividends and Value for Price)
Warning reading time of this email: 3 minutes. But you will come out smarter!
– Last week what stands out?
– The 25 highest yield dividend growth stocks.
– Champion Members look at this stock.
– Hong Kong Dividend Growth Stocks averages on June 17, 2022:
– Great links you can not miss out on
If you have special request for data sets. Just let me know, ASAP. Just send me an email. It would be fun to make customized files.
– What stands out.
Dickson Concept HKG:0113 came with their numbers. This is the company that handles luxury brands, like Tommy Hillfiger in Hong Kong, mainland China and Taiwan.
They stabilized their dividend (HK$0.35 p/yr) and the stock yields now 8%. There is some decline of profit and that is probably because of Covid.
It is not unthinkable that coming year will be a much better year for companies like Dickson Concept.
Blue Chips, something exciting to tell: I made a post of the top 5 highest yield Blue Chips. All yield 8% or higher
Check them out here.
-The 25 highest yield dividend growth stocks
are updated. that .xls file you will find on the free members page and the Champion members page.
In this weeks update of the 25 Dividend Growth Stocks with the highest yield:
There are 5 companies out of these 25, that are active in the telecom category and have high yield.
Of these 5 companies, HKG:0941 China Mobile is also a Blue Chip.
Download this free file here and see for your self.
–Champion Members: HKG:0855 China Water got a lot of greens on the stock screener.
Their price decreased 14% compared to last week.
Interim dividend increased 6%
If you look at 5-yr average dividend growth and yield, 10%Yield on Cost can be realized in 3 years.
Let me know what you see and think.
–Hong Kong Dividend Growth Stocks averages on June 17, 2022,
Of all Hong Kong Dividend Growth stocks:
The average yield of all companies in the Directory is almost 5.3% .
Of all these stocks the average 5-year-average-dividend-growth is 20%
1-year-average Dividend growth is 16%
When we do: yield 5.3% x growth 20% => 10%-Yield-on-Cost will be in 5 years.
Average Price-to-Earnings ratio (P/E) is: 9.6
Updated links you can not miss out on:
Download 25-Highest-yield Dividend Growth Stocks
If you have a question, recommendation, or bright idea, be sure to let me know. Just reply to this email.
Wishing you a happy day,
Petra @ Hong Kong Dividend Stocks
Instantly get your spreadsheet of the 25 Highest yield Hong Kong Dividend Growth stocks
Yes for FREE, no spam.