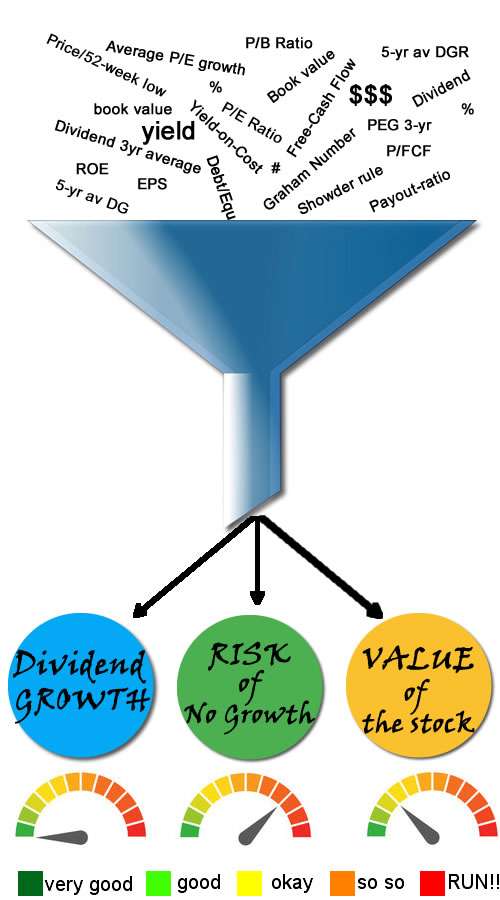 Discover new investment opportunities in seconds
DIVIDEND GROWTH STOCKS & BLUE CHIP VALUE COMPANIES
How many times did you find yourself down the rabit hole, looking at stats and figures, comparing yield and growth with price and value? While headache and doubts kreep in.
Understandably, because the first rule of money is not to lose money.
That is why the Champion Membership comes with a build in Stock Screener. Simple & Easy, in a split second you see which companies have:
1 Dividend growth
The aim is high yield  and high yield that comes with high growth of yearly dividends is even better. So aim for the best
2 Risk of no Dividend Growth
Here you look at the risk of the increase of dividends not happening. For Dividend Growth Investing there is nothing  worse than hoping to get a pay raise and not getting that.
3 Value of the stock
Is the price overvalued or favorably undervalued? Good investments come for a price. Dividend growth investing is  data driven. Sentiments of the market can be an advantage in building a portfolio with highers yields than average for those who are aiming for good price, high yield, high value,long term vision
Get to what is important fast
Save time
Finding all Dividend Growth stocks a daunting task. With The Directory you have them all  in one place AND you can evaluate all of them quickly on
Growth | Risk | Value
seize opportunities
Average yield of 5%
With an average yield of 5% and average P/E ratio of 8.9 Hong Kong Dividend Growth Companies can be of great value to reach your financial goals.
It is an active Directory
updated every week!
Companies that cut their annual dividends are moved off The Directory. While all eyes are open to new opportunities to spot and add new Dividend Challengers that have a 5 year dividend growth streak.
HKDS
Champion Membership
USD 16.95 p/m
USD 199.- paid annually
to Lucky rooster ltd.
report an issue
What will happen after you pay?
1. Once the Payment is confirmed, your Champion Membership account is created automatically.
2. You will receive an email that contains a special link to complete the registration.
3. When you click on that special link in the email it will bring you to the registration page and let you choose a "username" and "password" for your Champion Membership account.