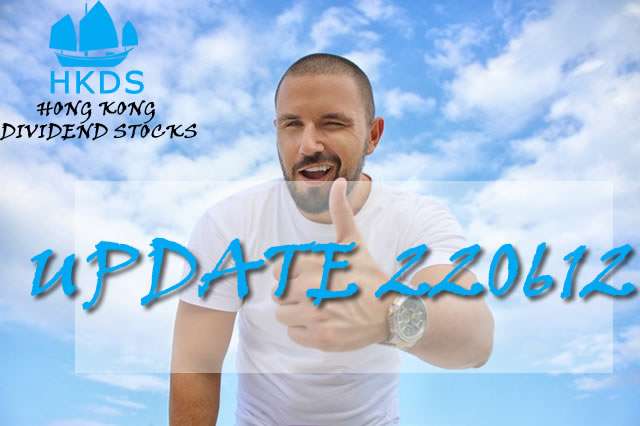 5 mins read
220612 Update Hong Kong Dividend Growth Stocks
This is the newsletter you get if you sign up (FREE) below to see the stock screeners favorite this week. You also get to immediately download the 25 highest yield Dividend Growth Stocks.
If you need a deeper level and full spectrum of all Dividend Growth Stocks and Blue Chip Stocks of Hong Kong including the stock screener to optimize your (or your clients portfolio), it is recommend to become a Champion member.
Note: this is the newsletter as send to everybody who signed up (free). If you haven't done that yet and would like to get the newsletter to its full extend and all the free files (25-highest yield, Blue Chip Value, updates on the Dogs of the Hang Seng) it is highly recommended to fill in the super short form below this post. 
Happy Sunday!
Did you see the companies that have these beautiful charts? Those are the ones that without failure pay their shareholders more dividends year after year.
If you would hold any of these shares the beautiful charts become your rising dividends income chart.
Search for stocks that bring you an automatically increasing cash flow is what we do.
All of them are packed in the Directory, an overview of all companies that have
5 years or more of dividend increases
5 yr dividend growth rate of 0.001 or higher.
This way you save a huge amount of time in your research to find the right stocks that are eligible for your cash flow generating portfolio.
The Directory is part of the Champion Membership and updated weekly. There is even an easy-to-use stock screener build in, so out of all dividend growth stocks you see in 1 second how they perform on dividend growth, Risk and Value.
Just to make your life easier.
Based on a lot of data we look for good opportunities for Dividend Income creation and Value Investing .  (Dividend Growth, Risk of not getting any Dividends and Value for Price)
Warning reading time of this email: 3 minutes. But you will come out smarter!
– What stands out?
– The 25 highest yield dividend growth stocks and the extra column of the week
– Champion Members look at this stock
– Hong Kong Dividend Growth Stocks averages on June 10, 2022:
– Great links you can not miss out on
– What stands out.
Did you take a look at Lenovo HKG:0992? They just reached the status of Hong Kong Blue Chip.
Dividend over 2021 got up with 24%
Champion Members, you will see that Growth, Risk and Value are in almost perfect alignment.
-The 25 highest yield dividend growth stocks
are updated. that .xls file you will find on the free members page (please, sign up below to get access or check your email) and the Champion members page.
In this weeks update of the 25 Dividend Growth Stocks with the highest yield:
The extra column that reveals the Dividend Growth rate of last year to this year.
The number 1 in the list raised Dividends by 50%!
What is that 1 yr growth rate actually?
1-yr dividend growth rate tell us if the company performing better AND sharing that with their shareholders.
If the company is not performing better in their result but still raising dividends, you have to look where that is coming from.
Maybe the payout% is up, or there is just not enough made and your dividends come from the reserves. Both might indicate a growth of risk whether the dividends will be more coming year.
So it makes another part of the puzzle clear in the field of Dividend growth.
And then there is this:
Also Xingda HKG:1899 is going ex-dividend this week. They payout a 10% yield!
Free members: You can download this free file here and see for your self.
–Champion Members: Something lights up for Lam Soon HKG:0411
If you look at the stock screener it shows a lot of green.
Yield 4% is attractive. And very close to their 52-week lowest price.
Please take a look and tell me your findings.
If you have special request for data sets. Just let me know, ASAP. Just send me an email. It would be fun to make customized files.
–Hong Kong Dividend Growth Stocks averages on June 10, 2022,
Of all Hong Kong Dividend Growth stocks:
The average yield of all companies in the Directory is almost 5.2% .
Of all these stocks the average 5-year-average-dividend-growth is 20%
1-year-average Dividend growth is 16%
When we do: yield 524% x growth 20% => 10%-Yield-on-Cost will be in 5 years.
Average Price-to-Earnings ratio (P/E) is: 9.6
Great links you can not miss out on:
Download 25-Highest-yield Dividend Growth Stocks
If you have a question, recommendation, or bright idea, be sure to let me know. Just reply to this email.
Wishing you a happy day,
Petra @ Hong Kong Dividend Stocks
One more thing: to keep track on all things Hong Kong Dividend and Blue Chip stocks, it is highly recommended to follow HKDS at
Twitter
Facebook.
Click and keep in touch easily with HKDS!
Instantly get your spreadsheet of the 25 Highest yield Hong Kong Dividend Growth stocks
Yes for FREE, no spam.