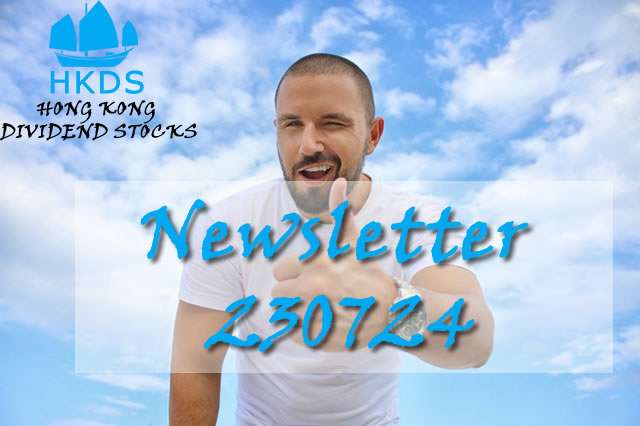 6 mins read
This is the newsletter you get if you sign up (FREE) below to see the stock screeners favorite this week. You also get to immediately download the 25 highest yield Dividend Growth Stocks.
If you need a deeper level and full spectrum of all Dividend Growth Stocks and Blue Chip Stocks of Hong Kong including the stock screener to optimize your (or your clients portfolio), it is recommend to become a Champion member.
We follow the dividend growth stocks  and the Blue Chips of Hong Kong.
The goal of this email is to save you a significant amount of time in your research to find the right stocks that are eligible for your cash flow generating portfolio.
Reading time of this email: 4 minutes. You will come out wiser, trust me
– Last week what stands out? Whoohoo, new Challenger!
– The  Blue Chips : Applied filters get you these gems
– The 25 highest yield dividend growth stocks.
– Hong Kong Dividend Growth Stocks averages on July 24, 2023:
– Great links you can not miss out on
– What stands out?
We have a new Dividend Challenger (5 consecutive years of dividend raises).
Welcome to HKG:0631 Sany International They are in the heavy machinery. Their dividend history chart does not look so good. In case you think I forgot a few years, no. Some years there was no dividend at all.
Let's get you some other highlights
1-yr dividend growth is 25%
3-yr dividend growth is 17%
yield is now a staggering 1.7%
Price-to-book value is 3. That means the price is 3 times higher than the value of this stock.
On the Stock Screener:
Dividend growth= Low,
Risk of Dividend cuts= also low (that is good),
Value= very red (that is not so good.)
Let's see what the future will hold.
Let's move on to
–Hong Kong Blue Chip Stocks
The Hong Kong Blue Chips their main objective is to buy low and hold. Their status as Blue Chip should almost guarantee these companies know what they are doing and therefor are able to navigate through difficult times. Chances are high these stocks are overvalued and a bit overpriced.
Some of that can be compensated with dividend earnings.
Now if we have all Blue Chips and we filter the following:
Value part of the Stock screener 60 or better (range 60-100). Then we filter
Yield higher or equal to 5%, and just to be sure we also take
Price now is higher or equal to price January 1
We should get a few good options of solid companies that are in the lift, have an interesting yield and a pretty good overall score on value.
These 3 stocks comply and might be worth looking into. (Keep in mind, we do data, not investment advise.)
| | | | | | | |
| --- | --- | --- | --- | --- | --- | --- |
| Ticker | Company | Sector | Price HK$ | Price on Jan 1, 2023 | Compared to January 1: | Yield |
| HKG:0267 | Citic | Conglomerate | 8.66 | 8.24 | 5.10% | 7.52% |
| HKG:0386 | Sinopec | Petroleum & Gases | 4.60 | 3.77 | 22.02% | 9.18% |
| HKG:1088 | China Shenhua | Coal | 23.20 | 22.55 | 2.88% | 13.08% |
If you are wondering what it takes to becomes a Blue Chip company, this you might like. Simple post, 4 bullet points. Most can be captured very well by data. It is just point 4 that is harder to pinpoint. You can download the .xls file in the (free) members area.
Now we go to the fun, High Yield stocks
-The 25 highest yield dividend growth stocks
are updated. that .xls file you will find on the free members page (link in inbox only) and the Champion members page.
A company that surfaced in this file  is HKG:0564 ZMJ
Yield 9%
P/E 4
3-yr average dividend growth almost 50%
Champion members: All looks green if you look in the Directory. (very special member page)
–Hong Kong Dividend Growth Stocks averages on July 24, 2023,
Of all Hong Kong Dividend Growth stocks:
The average yield of all companies in the Directory is 6% .  With the highest yield being 29% and the lowest 0.7%
Of all these stocks the average 5-year-average-dividend-growth is 16%.
1-year-average Dividend growth is 10%
When we do: yield 6% x growth 16% => 10%-Yield-on-Cost will be in 4 years!!
Average Price-to-Earnings ratio (P/E) is: 17.4
Average Price-to-Book ratio (P/B) is: 1.2
Updated links you can not miss out on:
Download 25-Highest-yield Dividend Growth Stocks (link in inbox only)
If you are a financial professional:
For complete access to all dividend generating companies, listed in Hong Kong, including the stock screener function  it is recommended to become a Champion member.
For less than US$4.00 per week (paid annually) you get to pick those companies that have a proven track record of paying dividends consistently.
This Dividend Growth Directory is included in the Champion Membership and is updated every week. As mentioned before this .xls file also contains a user-friendly stock screener that allows you to easily assess the performance of all dividend growth stocks based on specific metrics that tell you about:
Dividend Growth,
Risk of a dividend cut and
Value of the stock
Thank you all for the support and have a great week!
Petra @ Hong Kong Dividend Stocks
To keep track on all things Hong Kong Dividend and Blue Chip stocks, it is highly recommended to follow HKDS at
Twitter
Facebook.
Click and keep in touch easily with HKDS!
Kind reminder, this is data, numbers. In no way this is financial advice. (nor legal, nor medical).
Instantly get your spreadsheet of the 25 Highest yield Hong Kong Dividend Growth stocks
Yes for FREE, no spam.