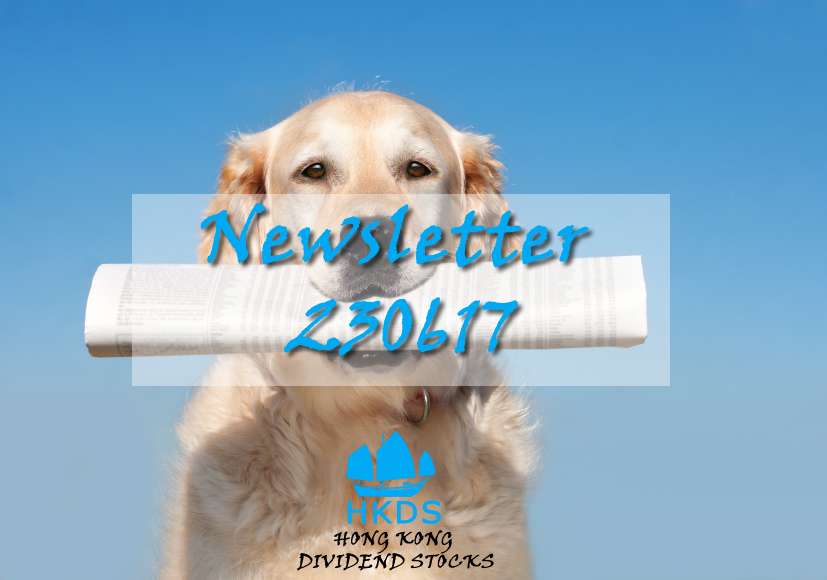 5 mins read
This is the newsletter you get if you sign up (FREE) below to see the stock screeners favorite this week. You also get to immediately download the 25 highest yield Dividend Growth Stocks.
If you need a deeper level and full spectrum of all Dividend Growth Stocks and Blue Chip Stocks of Hong Kong including the stock screener to optimize your (or your clients portfolio), it is recommend to become a Champion member.
 We follow the dividend growth stocks  and the Blue Chips  of Hong Kong.
The goal of this email is to save you a significant amount of time in your research to find the right stocks that are eligible for your cash flow generating portfolio.
Reading time of this email: 3 minutes. You will come out wiser, trust me
– Last week what stands out? Dickson HKG:0113
– And the  Blue Chips : Wait for it
– The 25 highest yield dividend growth stocks. Refreshed and renewed.
– Hong Kong Dividend Growth Stocks averages on June 17, 2023:
– Great links you can not miss out on
– What stands out?
 HKG:0113 Dickson Concept came with their numbers of the year ending 31 march 2023. What stands out is that EPS growth is 25% compared to the previous year. Dividends stayed the same. HKD 0.27 (HK$0.35 over the book year) This makes a total of 7% yield. Interim +final dividend
If you decide to buy and get the next dividend payment, your investment would yield (final dividend only) 6%
–Hong Kong Blue Chip Stocks
Next week we will look at the Hong Kong Blue Chip stocks. As we are getting close to entering  the second half of 2023, it is time to see how the Dogs of the Hang Seng are hanging on.
-The 25 highest yield dividend growth stocks
are updated. that .xls file you will find on the free members page and the Champion members page.
What is the extra column this week? 
This week Payout Ratio is the extra column. This can be very useful for evaluating risk of no dividends.
What is  Dividend Payout ratio?
Dividend payout ratio is a financial ratio that shows the proportion of a company's earnings that are paid out to shareholders as dividends. It is an important metric used by investors to evaluate a company's financial health and to determine the amount of dividends they can expect to receive.
How to calculate Dividend Payout ratio?
To calculate the dividend payout ratio, you need to divide the total amount of dividends paid out by the company by its net income. The result is then expressed as a percentage. For example, if a company paid out $100,000 in dividends and had a net income of $500,000, its dividend payout ratio would be 20%.
How can this ratio be negative?
When EPS is negative aka a loss has been made and dividends are still paid, a negative ratio comes out. Needless to say that this is not sustainable for any company.
How can this dividend payout ratio be 100% or more
When dividends per share are more than earnings per share. Also not a sustainable situation that can be repeated year after year.
What can be considered a healthy ratio?
Overall, anything below 50% is good. Healthy and sustainable. Half for dividends, half for investing in growth or decreasing liabilities can be a good strategy.
What does it tell dividend growth investors?
It is a metric that helps evaluate the risk of dividend cuts.
So in the column with this metric in the list of 25 highest yield dividend growth stocks you'll see the good in green, the bad in orange, and the ugly in yellow. .
As a bonus, the ex-dividend dates are also in there.
You can download this free file here and see for your self.
Champion Members: in the Directory of all Dividend Growth stocks a column was added where you can see which companies decreased their dividends. Column A Category Dividend Growth / 2023 Dividend Cut. 
–Hong Kong Dividend Growth Stocks averages on June 17 2023,
Of all Hong Kong Dividend Growth stocks:
The average yield of all companies in the Directory is 5.8% .  With the highest yield being 30% and the lowest 0.74%
Of all these stocks the average 5-year-average-dividend-growth is 16%.
1-year-average Dividend growth is 10%
When we do: yield 5.8% x growth 16% => 10%-Yield-on-Cost will be in 4 years!!
Average Price-to-Earnings ratio (P/E) is: 18.3
Updated links you can not miss out on:
Download 25-Highest-yield Dividend Growth Stocks
The Directory is included in the Champion Membership and is updated every week. It also contains a user-friendly stock screener that allows you to easily assess the performance of all dividend growth stocks based on specific metrics that tell you about:
Dividend Growth,
Risk of a dividend cut and
Value of the stock
Thank you all for the support and have a great week!
Petra @ Hong Kong Dividend Stocks
To keep track on all things Hong Kong Dividend and Blue Chip stocks, it is highly recommended to follow HKDS at
Twitter
Facebook.
Click and keep in touch easily with HKDS!
Kind reminder, this is data, numbers. In no way this is financial advice. (nor legal, nor medical).
Instantly get your spreadsheet of the 25 Highest yield Hong Kong Dividend Growth stocks
Yes for FREE, no spam.