200704 Update Hong Kong Dividend Growth stocks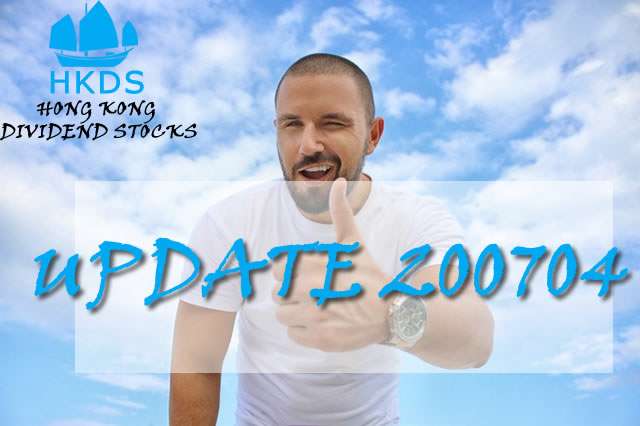 In this update:
This weeks Top 5. Who pays the most $$$?
Dividend announcements,
New Challengers added
Blue Chip Value Insights
HSI compared to January 1, things start to look better
This weeks Top 5
In this weeks top 5 we look at the companies that pay the most HK$. This has nothing to do with yield. Yield is the percentage of the price (you paid) . This top 5 is about the highest payers.
Hang Seng wins, with a HK$ 7.50 per share.
For the complete picture, the lowest amount you can get from these Dividend Growth Companies (DGC) is HK$ 0.01 per share per year. (still yielding at 3.3%)
This goes to show contrast in yield (%) and cash ($) . High yield does not always mean a lot of cash flow.
 Dividend Growth announcements in the past week
China Water (00855.HK) HK$ 0.16 Final 7% growth
Far East Consortium (0035.HK) HK$ 0.15 final -13% growth
Winfair (0287.HK) HK$ 0.14 final 0% growth
Far East Consortium (0035.HK) will be removed out of the Directory in the coming week.
New Challengers added to the Directory:
Oriental watch 0398.HK
SH Ind Urban 0563.HK (weirdest dividend chart ever)
HSI compared to January 1, is now at a mild -11%
Blue Chip Insights
-Blue Chip stocks are down average -13%
-Biggest loser: Swire Pacific 0019.HK) -43% since January 1
-Biggest winner: 0700.HK Tencent +37%
Follow HKDS also on:
Twitter
Facebook
Instagram
Pinterest
Thank you, it will be more fun with you there!
  To become a Contender or Champion member and have access to
the Complete Directory and website ,
GO HERE
Wishing you a fruitful weekend,
Petra @ Hong Kong Dividend Stocks
More Hong Kong Dividend & Blue Chip news, follow: