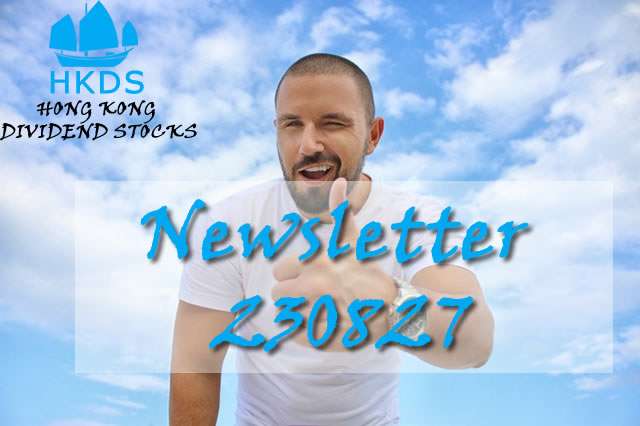 5 mins read
This is the newsletter you get if you sign up (FREE) below to see the stock screeners favorite this week. You also get to immediately download the 25 highest yield Dividend Growth Stocks.
If you need a deeper level and full spectrum of all Dividend Growth Stocks and Blue Chip Stocks of Hong Kong including the stock screener to optimize your (or your clients portfolio), it is recommend to become a Champion member.
 We follow the dividend growth stocks  and the Blue Chips of Hong Kong.
The goal of this email is to save you a significant amount of time in your research to find the right stocks that are eligible for your cash flow generating portfolio.
Reading time of this email: 4 minutes. You will come out wiser, trust me
First this
Last week what stands out? 5% more dividends here.
Hong Kong Dividend Growth Stocks averages on August 27, 2023
Great links you can not miss out on
First this
It's fantastic to see how our subscriber and Champion member community has been flourishing in the past few weeks! We're thrilled to witness this incredible growth and the eagerness of our members.
It is becoming an amazing group of smart and savvy people who see the potential in generating income streams from dividends of Hong Kong listed companies.
Now let's be sure we are all on the same page.
Dividend growth investing means we look at all the Hong Kong Listed companies that did not decrease their dividends for 5 years or more. Because the goal is not only to invest in companies that are solid, but to gain an income out of our investing efforts in the form of dividends.
By focusing on companies with a track record of consistent or growing dividends, we aim to create a portfolio that not only has the potential for capital appreciation but also provides a reliable source of income. Our goal is to empower our community members to achieve financial stability and independence by harnessing the power of dividend income.
To battle inflation, it is of course the strategy to look for stocks that pay more dividends every year, so we see an increase in our income. But we can not be too greedy and do our due-diligence, because we want to reduce the Risk of our dividends being cut.
And we do not want to pay too much for our income generating part of our portfolio, so we have to compare price with Value
Et voila, there are the 3 components of the Dividend Growth strategy, Growth, Risk and Value.
These are the 3 cornerstones of what the data should tell us. Keep in mind we do data, no advice, no speculation. Purely numbers, charts and excel sheets.
Now, if you look here in your latest version of the 25 HK Dividend growth companies that have the highest yield this week,  you will see additional 3 columns:
Yield. =price/dividend. High yield can mean low price or high dividends. The number 1 highest yield might look promising, but interim dividends got axed. So yield is a good start, but you might want to know more.
EPS: =earnings per Share. How much profit is made divided by the number of outstanding share. In the 25-highest yield sheet you will see a few have negative numbers. At this point there is a loss to report. That can have several good reasons, like paying off liabilities, but it does put our dividend payments at Risk. No reason to run away, but it will take deeper investigation.
P/E ratio.  =Price/EPS brings us a first glance of Value. If this number is higher than 15-20 it might be overpriced. Time to look at other metrics, to confirm or deny this.
These 3 metrics should give you are good first glance of potentially good companies to look at.
Now that we are all on the same track lets look at this company:
1-Last week what stands out?
HKG:1299 AIA (insurance) interim was pretty good. Interim dividend got upped 5% to HK$ 0.42. Also total equity went up, while total liabilities went down, = a lower D/E, which might indicate, a stronger financial position which might lead to more ….? Yes dividends!
End of 2022 was marked in red, now definitely blue!
yield: 2.27%
P/E : 356 (high)
5-yr average dividend growth 9%
years to 10% yield on cost: longer than 15 years.
Other: it is a blue chip stock!
What do we think?
–Hong Kong Dividend Growth Stocks averages on August 27, 2023, Of all Hong Kong Dividend Growth stocks:
The average yield of all companies in the Directory is 6% .  With the highest yield being 27% and the lowest 0.9%
Of all these stocks the average 5-year-average-dividend-growth is 16%.
1-year-average Dividend growth is 10%
When we do: yield 6% x growth 16% => 10%-Yield-on-Cost will be in 4 years!!
Average Price-to-Earnings ratio (P/E) is: 17.4
Average Price-to-Book ratio (P/B) is: 1.16
Updated links you can not miss out on:
Download 25-Highest-yield Dividend Growth Stocks
For complete access to all dividend generating companies, listed in Hong Kong, including the stock screener function  it is recommended to become a Champion member.
This Dividend Growth Directory is included in the Champion Membership and is updated every week.
As mentioned before this .xls file also contains a user-friendly stock screener that allows you to easily assess the performance of all dividend growth stocks based on specific metrics that tell you about the 3 cornerstones mentioned earlier in the email:
Dividend Growth,
Risk of a dividend cut and
Value of the stock
 Thank you all for the support and have a great week!
Petra @ Hong Kong Dividend Stocks
To keep track on all things Hong Kong Dividend and Blue Chip stocks, it is highly recommended
to follow HKDS at
Click and keep in touch easily with HKDS!
Kind reminder, this is data, numbers. In no way this is financial advice. (nor legal, nor medical).
Instantly get your spreadsheet of the 25 Highest yield Hong Kong Dividend Growth stocks
Yes for FREE, no spam.