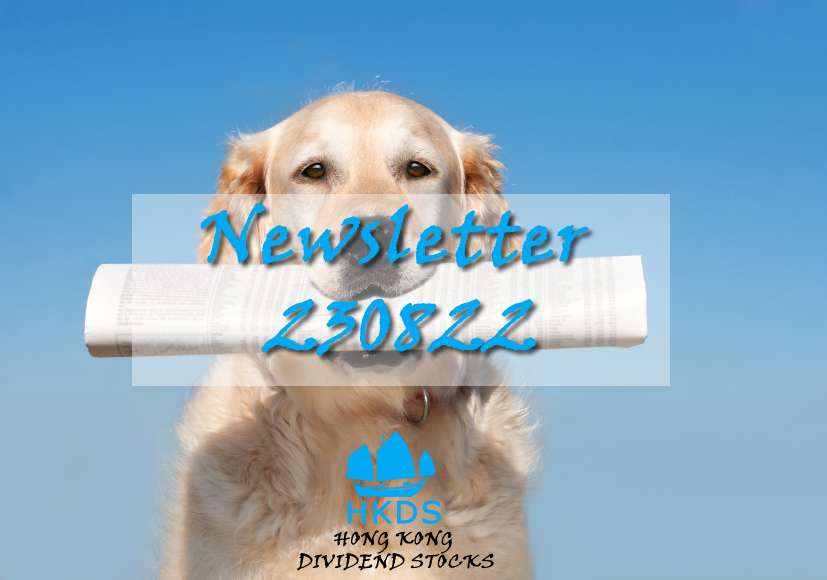 7 mins read
This is the newsletter you get if you sign up (FREE) below to see the stock screeners favorite this week. You also get to immediately download the 25 highest yield Dividend Growth Stocks.
If you need a deeper level and full spectrum of all Dividend Growth Stocks and Blue Chip Stocks of Hong Kong including the stock screener to optimize your (or your clients portfolio), it is recommend to become a Champion member.
HKDS Update August 22
 We follow the dividend growth stocks  and the Blue Chips of Hong Kong.
The goal of this email is to save you a significant amount of time in your research to find the right stocks that are eligible for your cash flow generating portfolio.
Reading time of this email: 4 minutes. You will come out wiser, trust me
– Last week what stands out? Interim results coming in. 23% more dividends here!
– The 25 highest yield dividend growth stocks.
– Hong Kong Dividend Growth Stocks averages on August 22, 2023:
– Great links you can not miss out on
– What stands out?
Interim results. There is bad news and good news:
For more than a year HKG:1308 SITC International was the stock with the highest yield. Even after the results of end 2022 they remained on top. At some point even being close to 50% yield. Too good to be true.
Their interim results are in and dividend got axed with 75%, from HK$2.40 last year to HK$0.60 this season.
Is this a surprise?
50% yield for number of years given by a dividend growth stock is unheard off. There should be a price correction at some point. (dividend/price makes yield. Price goes up, yield goes down.)
But, there is something else here that came out of the data: EPS growth % is strongly related to dividend growth %,  if we look at  the past 5 years.
See here:

Whether something is good or bad doesn't matter in this context. If you're interested in companies that focus on increasing dividends for their shareholders, you should consider these factors too. However, SITC doesn't prioritize this strategy. When a company's earnings per share (EPS) increase, it benefits everyone. But if EPS goes down, we all receive less. In this case, SITC's interim EPS decreased by 75%, which is why there was a dividend cut
Now for some better news:
Let's look at Pax international HKG:0327
What can you say when interim dividend is 23% more than last year? Obviously 1H 2023 is going well. And although EPS is 6% lower than mid-2022, we see that total liabilities went down to. Less debt is a good thing.
If interim dividend was the only payment, this stock would yield 3.2% already.
Let's get you some other highlights
5-yr dividend growth is 37%
3-yr dividend growth is 17%
yield is now a staggering 5.8%
P/E is 5.6
Based on the information provided, the charts indicate that despite a decrease in EPS growth of 6% in 2023, there is still a positive dividend growth rate of 23% in the same year. This suggests that the company plans to increase the dividends it pays to shareholders, even though its earnings per share (EPS) are declining.
With a lower EPS and higher dividends, the payout ratio is expected to be higher. The payout ratio is a financial ratio calculated by dividing the dividend by the EPS. When EPS decreases and dividends increase, a higher percentage of earnings is allocated towards dividends.
It's important to note that a higher dividend payout ratio may indicate that a larger portion of the company's earnings is being distributed to shareholders as dividends, which could potentially impact its financial health. However, further analysis of the company's financials and dividend policy would be necessary to fully evaluate the situation.

Now we go to the fun, High Yield stocks
-The 25 highest yield dividend growth stocks
are updated. that .xls file you will find on the free members page and the Champion members page.
Of these 25 companies which one has the longest rack record of increasing dividends?
HKG:0014 Hysan , 19 consecutive years!  Companies that did not lower their dividends between 10 and 24 years in a row are called dividend contenders.
The 19 years shows a commitment to the shareholders. And even when times are dire they stick to it. Like now.
Yield 8.5%
P/E -16 (no profit made)
3-yr average dividend growth  0%
No investment advise here,
You can download this free file here and see for your self. Just keep in mind that the highest yield stock, might be in a spot of trouble.
–Hong Kong Dividend Growth Stocks averages on August 22, 2023,
Of all Hong Kong Dividend Growth stocks:
The average yield of all companies in the Directory is 6% .  With the highest yield being 29% and the lowest 0.7%
Of all these stocks the average 5-year-average-dividend-growth is 16%.
1-year-average Dividend growth is 10%
When we do: yield 6% x growth 16% => 10%-Yield-on-Cost will be in 4 years!!
Average Price-to-Earnings ratio (P/E) is: 17.4
Average Price-to-Book ratio (P/B) is: 1.2
Updated links you can not miss out on:
Download 25-Highest-yield Dividend Growth Stocks
If you are a financial professional:
For complete access to all dividend generating companies, listed in Hong Kong, including the stock screener function  it is recommended to become a Champion member.
For less than US$4.00 per week (paid annually) you get to pick those companies that have a proven track record of paying dividends consistently.
This Dividend Growth Directory is included in the Champion Membership and is updated every week. As mentioned before this .xls file also contains a user-friendly stock screener that allows you to easily assess the performance of all dividend growth stocks based on specific metrics that tell you about:
Dividend Growth,
Risk of a dividend cut and
Value of the stock
Thank you all for the support and have a great week!
Petra @ Hong Kong Dividend Stocks
To keep track on all things Hong Kong Dividend and Blue Chip stocks, it is highly recommended to follow HKDS at
Twitter
Facebook.
Click and keep in touch easily with HKDS!
Kind reminder, this is data, numbers. In no way this is financial advice. (nor legal, nor medical).
Instantly get your spreadsheet of the 25 Highest yield Hong Kong Dividend Growth stocks
Yes for FREE, no spam.