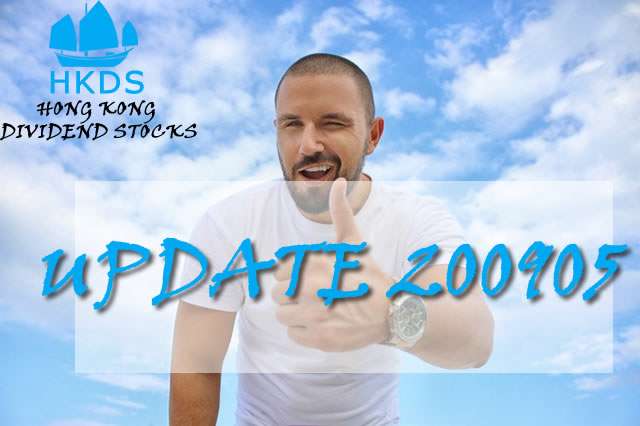 3 mins read
200905 Update Hong Kong Dividend Growth stocks
This is the newsletter you get if you sign up (FREE) below to see the stock screeners favorite this week. You also get to immediately download the 25 highest yield Dividend Growth Stocks.
If you need a deeper level and full spectrum of all Dividend Growth Stocks and Blue Chip Stocks of Hong Kong including the stock screener to optimize your (or your clients portfolio), it is recommend to become a Champion member.
In this update:
The last 2 weeks there have been a lot of Dividend announcements and not all were good. Not really a surprise, is it?
Do not fall in desperation, please. Something good will come out of this and it will be very simple:
The companies that have their strategies in order and that are in the right business sector will come to the surface.
Because it is impossible to announce over 5 years of dividend raises just by cheer luck. A company needs strategy on multiple levels to pull this off in 2020.
So those companies that remain standing in the Directory of Hong Kong Dividend Growth stocks have potential of being strong investments.
(This is NOT investment advise, just applied deductive reasoning)
In this newsletter:
Dividend announcements,
Updated (200905) the 25 highest yield dividend growth stock on the Hong Kong index
For Champion and Contender Members, The Members Page access to the updated Directory and more…
Dividend Growth announcements in the past week
China Overseas (0688.HK) HK$ 0.45 Final +0%  Interim Dividend increase
YuZhou Group (1628.HK) HK$ 0.12 +0% interim Dividend increase
Hung Hing Printing Group  (0450.HK) HK$ 0.03 0% interim Dividend increase
ShenZhou Int'l (2313.HK) HK$ 0.90 +0% interim  Dividend increase
China Resources  (1193.HK) HK$ 0.15 +33% interim Dividend increase
Sino Land (0083.HK)  HK$ 0.41   0% Final Dividend increase
TST Properties (0247.HK)  HK$ 0.41  0% Final Dividend increase
Dah Sing Bank (0440.HK)  HK$ 0.27  -31% interim Dividend decrease
Long For PPT (0960.HK)  RMB 0.40  +11% interim Dividend increase
CSPC Pharma (1093.HK)  HK$ 0.06  FIRST interim Dividend
China Resources Land  (1109.HK) RMB 0.15 +16% interim Dividend increase
Dah Sing Banking 2356.HK HK$ 0.08 -38% interim Dividend decrease
Citic (0267.HK) HK$ 0.10 -45% interim Dividend decrease
Beijing Ent Water (0371.HK) HK$ 0.084 -21% interim Dividend decrease
DongFeng Motor (0489.HK) RMB 0.10 0% Interim Dividend increase
Great Eagle (0041.HK)  HK$ 0.33 + Special Dividend HK$ 1.50
Lam Soon (0411.HK)  HK$ 0.31 +2% Final Dividend increase
Kerry Logistics (0636.HK) HK$ 0.11 +22% interim Dividend Increase
Multifield (0898.HK) HK$ 0.005 -16% interim Dividend decrease
CIFI (0884.HK) HK$ 0.11 +10% interim Dividend Increase
This week, a total of 57 Dividend Growth Companies have a yield higher than 5%
Follow HKDS also on:
Facebook
Ready to build your Dividend Growth Snowball?
  To become a Contender or Champion member and have access to
the Complete Directory and website ,
GO HERE
Instantly get your spreadsheet of the 25 Highest yield Hong Kong Dividend Growth stocks
Yes for FREE, no spam.