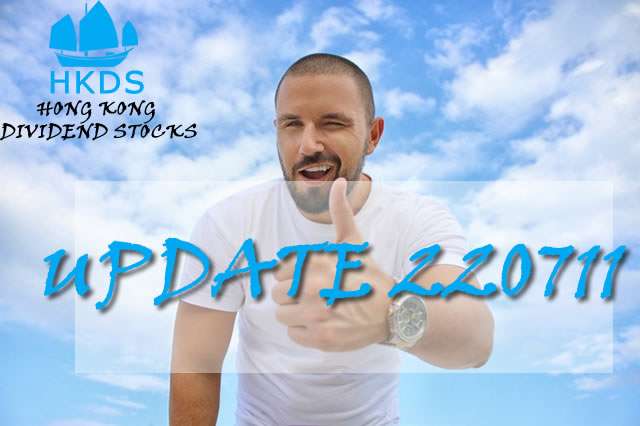 4 mins read
220711 Update Hong Kong Dividend Growth Stocks
This is the newsletter you get if you sign up (FREE) below to see the stock screeners favorite this week. You also get to immediately download the 25 highest yield Dividend Growth Stocks.
If you need a deeper level and full spectrum of all Dividend Growth Stocks and Blue Chip Stocks of Hong Kong including the stock screener to optimize your (or your clients portfolio), it is recommend to become a Champion member.
Researching Hong Kong stocks that bring you an increasing cash flow is what we do.
For some inspiration look at these beautiful charts
These are exactly those companies that without failure pay their shareholders more dividends year after year.
No.Matter.Wat
All these stocks are packed in the Directory. This is an easy to understand overview of all companies that have
5 years or more of dividend increases
5 yr dividend growth rate of 0.001 or higher.
So you save a huge amount of time in your research to find the right stocks that are eligible for your cash flow generating portfolio.
The Directory is part of the Champion Membership and updated weekly. There is even an easy-to-use stock screener build in, so out of all dividend growth stocks you see in 1 second how they perform on dividend growth, Risk and Value.
Just to make your life easier.
Based on a lot of data we look for good opportunities for Dividend Income creation and Value Investing .  (Dividend Growth, Risk of not getting any Dividends and Value for Price)
Reading time of this email: 2 minutes. You will come out smarter!
– Last week what stands out?
– The 25 highest yield dividend growth stocks.
– Champion Members look at this stock.
– Hong Kong Dividend Growth Stocks averages on July 8, 2022:
– Great links you can not miss out on
If you have special request for data sets. Just let me know, ASAP. Just send me an email. It would be fun to make customized files.
– What stands out.
Since 2 weeks CLP HKG:0002 is below HK$70 . Given that this company never decreased dividends and that it is also a Blue Chip stock there might be an opportunity of Value here.
P/B = 1.3and the Graham number is only 12% under the price.
Yield 4%
-The 25 highest yield dividend growth stocks
are updated. that .xls file you will find on the free members page (sign up below to see this page) and the Champion members page.
In this weeks update of the 25 Dividend Growth Stocks with the highest yield:
There are 3 companies out of these 25, that are banks. All of them yield over 8%
The Bank of Communications HKG:3328 has a proven track record of 10 years of Dividend increases!
–Champion Members: There is a new kid on the block, that I think has potential.
HKG:3788 China Hangking They are in mining gold and iron from PRC and Australia.
P/E = 3
P/B = 1.26
What is a bit wobbly is the fact that they have been a brand New Challenger, only consecutive 5 years of dividend raises.
What can be interesting, in August, probably interim dividend will be announced. Last year that was HK$0.06 . If nothing changes and the 6 cents repeats only that dividend will be a 5% yield!
Let me know what you see and think.
–Hong Kong Dividend Growth Stocks averages on July 8, 2022,
Of all Hong Kong Dividend Growth stocks:
The average yield of all companies in the Directory is almost 5.4% .
Of all these stocks the average 5-year-average-dividend-growth is 20%
1-year-average Dividend growth is 17%
When we do: yield 5.4% x growth 20% => 10%-Yield-on-Cost will be in 5 years.
Average Price-to-Earnings ratio (P/E) is: 10
Updated links you can not miss out on:
Download 25-Highest-yield Dividend Growth Stocks (sign up below to see this page)
If you have a question, recommendation, or bright idea, be sure to let me know. Just email me ~ Petra @ Hong Kong dividend stocks . com
Wishing you a happy day,
Petra @ Hong Kong Dividend Stocks
One more thing: to keep track on all things Hong Kong Dividend and Blue Chip stocks, it is highly recommended to follow HKDS at
Twitter
Facebook.
Click and keep in touch easily with HKDS!
Instantly get your spreadsheet of the 25 Highest yield Hong Kong Dividend Growth stocks
Yes for FREE, no spam.