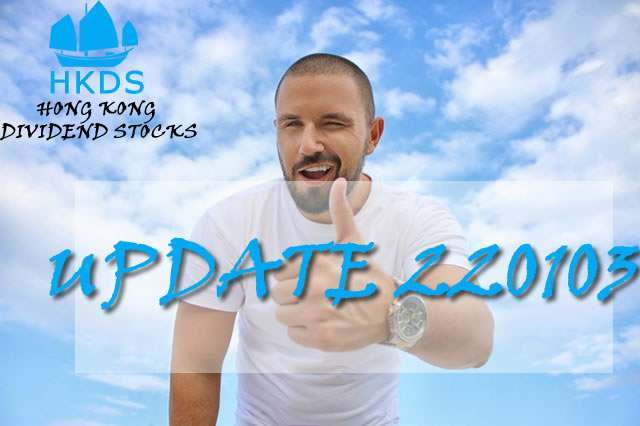 5 mins read
220103 Update Hong Kong Dividend Growth Stocks
This is the newsletter you get if you sign up (FREE) below to see the stock screeners favorite this week. You also get to immediately download the 25 highest yield Dividend Growth Stocks.
If you need a deeper level and full spectrum of all Dividend Growth Stocks and Blue Chip Stocks of Hong Kong including the stock screener to optimize your (or your clients portfolio), it is recommend to become a Champion member.
Of course also at HKDS we wish you the warmest and strongest year possible and everything you need for 2022 to be successful.
A quick reminder: We look at the data of Blue Chip companies and all the Hong Kong listed companies that have
5 years or more of dividend increases
5 yr dividend growth rate of 0.001 or higher.
Based on a lot of data we look for good opportunities (Dividend Growth, Risk of not getting any Dividends and Value for Price)
Reading time of this email: 2 minutes.
– What happened with the Dogs of the Hang Seng?
– The 25 highest yield dividend growth stocks. A word of caution!
– Hong Kong Dividend Growth Stocks averages on December 31, 2021:
– Great links you can not miss out on
If you are planning on investing in yourself and in building the best possible portfolio that generate:
dividend income and
growth in total value,
the Champion Membership can get you on your way.
Data, for Discovering hidden treasures and making calculated Decisions
– What happened to the Dogs of the Hang Seng 2021?
They did extremely well. If you would have invested HK$ 100,000 your return would have been HK$115,000 and that is excluding received dividends from this portfolio. Guess how much your dividend income would have been?
Wondering what the Dogs of the Hang Seng are or interested in their results for 2021, see here.
The free members page and the Champion members page hold the .xls files. You will find more precise information about which Dog really stood out in 2021. (yep, we saw a +44% for one company) Also remarkable, none of them failed to increase in value!
The New Dogs of the HSI 2022 are also released!
See which 10 Hong Kong Blue Chips have the highest yield on January 2022. It is a new beginning and an interestingly fun benchmark portfolio.
-The 25 highest yield dividend growth stocks
are updated. that .xls file you will find on the free members page and the Champion members page.
What is getting out of hand is the yield of the first 4 Companies. See here in the Top 10. Really, yields over 50%
Is this realistic? one answer: NO
All are dividend growth stocks. That means over at least the last 5 consecutive years they raised their dividends.
And the question that needs to be answered is: will they do that again in 2022?
Let's look
HKG:3883 China Aoyuan, appears to be a bit in trouble due to the Evergrande Crisis of last year.
See here what Reuters has to say
HKG:1628 YuZhou Properties, already cut their interim dividend and the 3 red lines of credit management are giving a bit of trouble. It is speculation, but chances of remaining their dividends to the same level as 2021 are very slim.
HKG:3383 Agile Group also in trouble financially, Evergrande and debt management
HKG:1813 KWG Group came with a decrease of their interim dividends. It is a warning sign.
HKG:3380 Logan Group has released a statement there are some cash-flow problems
What do these 5 all have in common? You guessed it, they are all in the property sector.
Does that mean that the whole sector is an bad investment right now? No, but if you are looking to find companies that have high yield, please be advised, there might be bad news ahead. High Risk of not getting any dividends.
Luckily, in the list of 25 highest yield dividend stocks and of course, in the complete list of all Hong Kong dividend growth stocks are interesting companies that might bring higher dividends to you in 2022.
This week the list of 25 stock has an extra column pointing out which companies did cut their interim dividends.
Hong Kong Dividend Growth Stocks averages on December 31, 2021:
Of all Hong Kong Dividend Growth stocks, the averages are:
The average yield of all companies in the Directory is 6% . Last week average yield was 5.78%
Of all these stocks the average 5-year-average-dividend-growth is 21.97%
1-year-average Dividend growth is 13.96%
When we do:  yield 5.60% x growth 21.93% => 10%-Yield-on-Cost will be in 5 years.
Average Price-to-Earnings ratio (P/E) is: 10.56, last week PE was over 10.8
Average Earnings per Share (EPS) is: 1.673
Great links you can not miss out on:
If you have a question, recommendation, or bright idea, be sure to let me know.
Just reply to this email.
Wishing you a happy day,
Petra @ Hong Kong Dividend Stocks
Twitter and Facebook.
Click and keep in touch easily with HKDS!
Instantly get your spreadsheet of the 25 Highest yield Hong Kong Dividend Growth stocks
Yes for FREE, no spam.