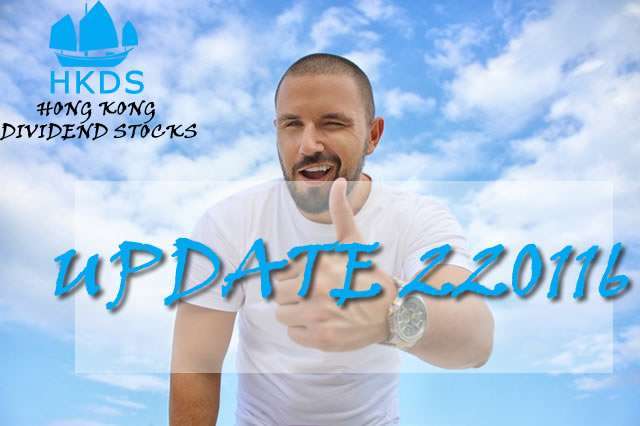 6 mins read
220116 Update Hong Kong Dividend Growth Stocks
This is the newsletter you get if you sign up (FREE) below to see the stock screeners favorite this week. You also get to immediately download the 25 highest yield Dividend Growth Stocks.
If you need a deeper level and full spectrum of all Dividend Growth Stocks and Blue Chip Stocks of Hong Kong including the stock screener to optimize your (or your clients portfolio), it is recommend to become a Champion member.
How was your week?
We look at all Hong Kong Dividend Growth stocks and Blue Chips.
Dividend stocks should have:
5 years or more of dividend increases. Stocks that give you a raise!
5 yr dividend growth rate of 0.001 or higher.
Reading time of this email: 2 minutes.
– This Blue Chip Company might be promising
– The stock screeners favorite this week
– The 25 highest yield dividend growth stocks, what stands out?
– and Dividend Growth Stocks from the Directory, what stands out?
– Hong Kong Dividend Growth Stocks averages on January 15, 2022:
– Great links you can not miss out on
If you are planning on investing in yourself and in building the best possible portfolio that generates dividend income and growth in total value, the Champion Membership can get you on your way. Data, for Discovering hidden treasures and making calculated Decisions.
Something fun first. Remember those Dogs of the Hang Seng? They are on the news for 2 weeks now.
Overhere you will find the comparison of the results between our HK Dogs and the Dogs of the Dow. Guess who won 2021?
Talking about the Hong Kong Blue Chip Companies.
In the Blue Chip files, you'll see 2 banks are on the rise in price. HSBC HKG:0005 made a 8.88% climb since last week ( 17.44% since January 1)  and Bank of China Hong Kong HKG:2388 jumped 4% (16% total this year).
Champion Members: There is a new ridiculously awesome sheet to be discovered in the Blue Chip Value Insights .xls. The added sheet is named Blue-Chip_Value-Screener.
In there you see this: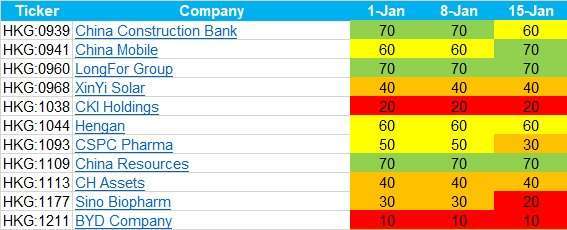 What is this?
Good question. The Value Screener gives a number and a color to all Blue Clip listings dedicated to see how the value of the stock can be interpreted. (Overvalued, undervalued.)
Red (0-20) = Bad, run!
Orange (25-40) = Not bad enough, but certainly not good
Yellow (45-60) = mid-range, which is starting to be worthwhile to look into
Light green (65-80) = Good
Green (85-100) = Super good, take a dive and find out why this looks so good.
To come to the given number and color we look at 10 different metrics that give an indication for the value-to-price relation of a stock.
In this new sheet, Blue-Chip_Value-Screener,  you see how the Value Screener moves per Blue Chip over the course of 2022, week by week.
Example: In the table above you see HKG:0941 China Mobile moved from yellow into the light green. There might be an opportunity here to buy a Blue Chip stock for good price.
A kind reminder, HKDS is doing the numbers and the data. It is up to you and your team of financial professionals to draw the final conclusion.
If you run into any question, just send me an email.
-The 25 highest yield dividend growth stocks and the Directory for Champion members, what stands out?
Something Extra, only this week, a new column is added in the 25 highest yield Hong Kong Dividend Growth stocks: 1 year Dividend Growth Ratio.
This gives you insight in how the dividend in book-year 2020 relates to Dividend in 2019. It is better to see an increase of sorts, but given that 2020 and probably 2021 are not the most fat years, 0% dividend growth can be the most honorable thing to do for some companies.
In this week extra column you see 1 company that increased dividends by 150%!! (no typo) Imagine how that looks on the Dividend Chart.
This ratio is not one to make a single decision on. It pays to look to 3-year average growth ratio as well as 5-years average dividend growth ratio.
You can download the 25 highest yield Dividend Growth Stocks here. [sign up below]
Which DG stock went up the most this week?
Surprise: HKG:1100 China Headwear Holding 11% . The consolidated net profit for the year ended 31 December 2021 of the Group is expected to be not less than HK$120 million as compared to HK$45.9 million in the preceding financial year ended 31 December 2020. Good news!
Interim dividend growth was already 50%.
YoY yield would be 3.5%
Which company went down the most this week?
HKG:1918 Sunac down 14% compared to last week. They lost this year already 22% in price.
The Stock Screener likes  China Resources Land HKG:1109
Yield 4.15%
EPS 5.12
P/E 6.96
Interim growth in EPS (YoY) 27%
Payout Ratio 30%
5-yr average Dividend Growth 21%
Champion Members:  China Resources land HKG:1109, their  Value indicator moved from yellow to green this week. Growth and Risk were already in the best green available.
The Stock Screener is an essential part of the Directory of all Hong Kong Dividend Growth stocks.
Essentially this is what we are looking for:
Stocks that have
-as much as possible dividend growth in the future
-against the lowest possible risk of not getting less or no dividends
-with the highest rise in Value of our invested capital.
Hong Kong Dividend Growth Stocks averages on December 18, 2021:
Of all Hong Kong Dividend Growth stocks, the averages are:
The average yield of all companies in the Directory is 6% .
Of all these stocks the average 5-year-average-dividend-growth is 21.81%
1-year-average Dividend growth is 14.05%
When we do:  yield 6% x growth 21.81% => 10%-Yield-on-Cost will be in 4 years.
Average Price-to-Earnings ratio (P/E) is: 10.23 ,
Average Earnings per Share (EPS) is: 1.663
Great links you can not miss out on:
If you have a question, recommendation, or bright idea, be sure to let me know.
Just reply to this email.
Wishing you a happy day,
Petra @ Hong Kong Dividend Stocks
Instantly get your spreadsheet of the 25 Highest yield Hong Kong Dividend Growth stocks
Yes for FREE, no spam.