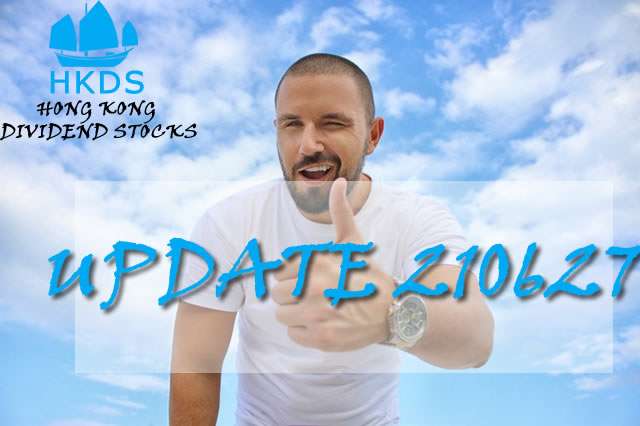 5 mins read
210627 Update Hong Kong Dividend Growth stocks
This is the newsletter you get if you sign up (FREE) below to see the stock screeners favorite this week. You also get to immediately download the 25 highest yield Dividend Growth Stocks.
If you need a deeper level and full spectrum of all Dividend Growth Stocks and Blue Chip Stocks of Hong Kong including the stock screener to optimize your (or your clients portfolio), it is recommend to become a Champion member.
This Newsletter is send out on June 27, 2021. It holds stock info collected on June 25, 2021.
In this Update:
About the past week
About the coming week
Be aware: an extra email scheduled for Wednesday/Thursday.
The Stock Screener favorite of this week:
Hong Kong Dividend Growth Stocks averages
Updated (210625) the 25 highest yield dividend growth stock on the Hong Kong index (mail only)
Champion Members announcement
For Champion Members, The Members Page access to the updated Directory and more…(mail only)
About the past week
Oriental Watch HKG:0398 came out with their results over the year ending March 31, 2021. It brought a dividend increase of 37%. And a special dividend of HK$ 0.362.
Karrie International HKG:1050 also came out positive. Dividend increase of 11% and even an special dividend of HK$0.005 per share.
About the coming week
Coming week  Winfair HKG:0287 will be updated. They did announce an dividend of HK$0.12 equal to last year.
Be aware: an extra email scheduled for Wednesday/Thursday.
As coming week will mark the first half of 2021 coming to an end, we will be checking in on the Dogs of the Hang Seng 2021.  Those are the 10 Blue Chip stocks that held the highest yield on January 1, 2021. It is a strategy to buy the Dogs on January 1, hold them though the year and sell on December 31 of that same year.
Because of their Blue Chip status, the price should rise and together with dividends you collect this strategy should account for a good profit.
Coming week we will see how this holds up while the year folds into the second half.
What do you think, this is a solid winning strategy?
The Stock Screener's favorite of the week is:
The stock screeners is build to provide focus and clarification of a bunch of metrics because it filters them into 3 distinct categories:
Future dividend growth,
Risk of not getting any dividends in the future and
Value for Price, is the stock over- or under valued.
The Stock screener is build into the Directory and on the Champions part of the company pages on the HKDS website.
This week we look at  China Overseas Land Investment HKG:0688
In both the Free-25-highest-yield-stock file (Blue button) as well as in the Directory (Green button) it has a green highlight.
Did you see this is an 18 year Dividend Contender? And also a Blue Chip Company. That is the best of 2 worlds in most portfolios!
Growth in Earnings is looking bright. And payout ratio as well as Dividend Coverage ratio are exceptional..
Price at this moment indicated a good value. Although Price/Free Cash Flow is too high. Book value, Graham number are within the ranges.
It is worth to explore this Dividend Contender and see if it fits your portfolio. If you see things differently let me know.
Champion Members, you will see that the 3 principles in the stock screener almost align. Meaning green on 3 out of 3 of Growth-Risk-Value.
I still encourage everybody to  proceed on doing your own due diligence before embarking of buying. (I do data, not financial advice)
Also updated:
Stocks that go Ex Dividend are featured daily on Instagram, Twitter and Facebook.
Click and keep in touch easily with HKDS!
Hong Kong Dividend Growth Stocks averages on June 25, 2021:
Of all Hong Kong Dividend Growth stocks, the averages are:
The average yield of all companies in the Directory is 4.63% .
Of all these stocks the average 5-year-average-dividend-growth is 21.51%
1-year-average Dividend growth is 13.01
When we do:  yield 4.63% x growth 21.51% => 10%-Yield-on-Cost will be in 5 years.
Average Price-to-Earnings ratio (P/E) is: 14.56
Average Earnings per Share (EPS) is: 1.19
Champion Members: In the Directory of all Dividend Growth Companies you see a new feature in the first column Dividend History Report. These are the direct links to the (you guessed it) Dividend History Reports per company.
This is to help you get the bigger picture of dividends paid more easy. Also the years it will take to get to 10% Yield on Cost is calculated for you here.
You need this for your deep research.
If you have any questions, recommendations, bright ideas, be sure to let me know.
Instantly get your spreadsheet of the 25 Highest yield Hong Kong Dividend Growth stocks
Yes for FREE, no spam.