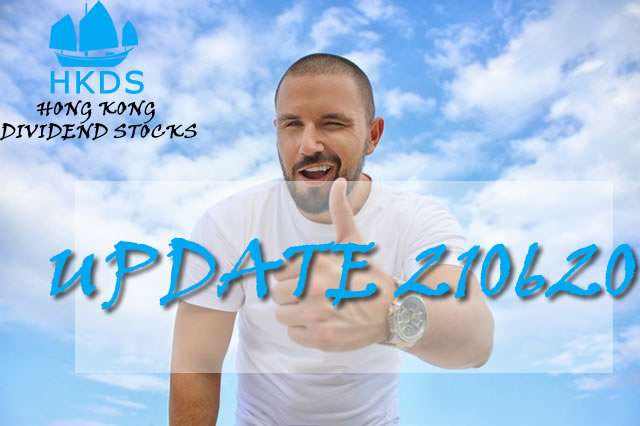 5 mins read
210620 Update Hong Kong Dividend Growth stocks
This is the newsletter you get if you sign up (FREE) below to see the stock screeners favorite this week. You also get to immediately download the 25 highest yield Dividend Growth Stocks.
If you need a deeper level and full spectrum of all Dividend Growth Stocks and Blue Chip Stocks of Hong Kong including the stock screener to optimize your (or your clients portfolio), it is recommend to become a Champion member.
In this newsletter:
About the past week, 2 new  Dividend Challengers!

About the coming week
The Stock Screener favorite of this week:
Hong Kong Dividend Growth Stocks averages
About the past week
A new interesting Challenger came to light, HKG:0701 CNT Group With a yield of over 5% the stock might appear attractive. And that is about it. No EPS growth, no good Payout Ratio and no colorful book-value.
Luckily there is this New Challenger Pax Global HKG:0327 that might spark more joy. Yield is under 2% and there is growth in everything. Their main business is electronic payment terminals. They did raise the dividend 70% compared to the previous year.
We got the positive results from Link REIT HKG:0823 Even if Real Estate Investment Trusts are not your thing, it is worth while just to click the link and gasp at that beautiful Dividend Chart. This is Growth made visible!
That said, the total dividend over 2020 (year ending March 31, 2021) is HK$ 2.8999 an increase of almost 1% compared to last year. This is a remarkable announcement, given that the dividend payout ratio had increase to 508%. That is not the good direction. It is likely that when the economy is opening up Link REIT will increase its revenues as they helped a lot of their tenants during the Covid crisis.
Their latest buy, Happy Valley Mall in Guangzhou might also bring more positive tunes. I happen to know that estate and enjoyed shopping their. It contains a AEON supermarket, H&M and other famous brands. It used to be very busy.
(As I recall there is a restaurant selling Beijing Duck that was always full. Can't remember the name though..)
About the coming week
Karrie International HKG:1050 and Winfair HKG:0287 will come with their numbers.
Both had positive interim results.
The Stock Screener's favorite of the week is:
The stock screeners is build to provide focus and clarification of a bunch of metrics because it filters them into 3 distinct categories:
Future dividend growth,
Risk of not getting any dividends in the future and
Value for Price, is the stock over- or under valued.
The Stock screener is build into the Directory and on the Champions part of the company pages on the HKDS website.
This week Sunac HKG:1918 has positive vibes
In both the Free-25-highest-yield-stock file (Blue button) as well as in the Directory (Green button) it has a green highlight.
This company has a favorable P/E , EPS and a yield of over 7%.
The 5 year average Dividend growth is over 55% . But they are just listed for 7 years and only just went into the Dividend Challenger status.
Based on current Yield and 5-yr Average Dividend Growth, 10% Yield on Cost is estimated on 2 years.This means if the growth in dividend continues your investment might return 10% dividend within 2 years.
There is an Ex-Dividend date on August 11.  RMB 1.65 per share coming your way. They do only 1 payout a year.
It is worth to explore this  Challenger and see if it fits your portfolio. If you see things differently let me know.
Champion Members, you will see that the 3 principles in the stock screener almost align. Meaning green on 3 out of 3 of Growth-Risk-Value.
I still encourage everybody to  proceed on doing your own due diligence before embarking of buying. (I do data, not financial advice)
Also updated:
Hong Kong Dividend Growth Stocks averages on June 18, 2021:
The average yield of all companies in the Directory is 4.72% .
Of all these stocks the average 5-year-average-dividend-growth is 19.12%
When we do:  yield 4.72% x growth 19.12% => 10%-Yield-on-Cost will be in 5 years.
Average Price-to-Earnings ratio (P/E) is: 15.16
Average Earnings per Share (EPS) is: 1.21
If you have any questions, recommendations, bright ideas, be sure to let me know.
Just reply to this email.
Wishing you a fruitful week,
Petra @ Hong Kong Dividend Stocks
The best way for you to get
exclusive access to the ONLY & FULL Directory of Dividend Growth stocks
and
the full extend of the HKDS website
is to get the Champion membership,
because this will take your dividend earning portfolio to the next level.
Instantly get your spreadsheet of the 25 Highest yield Hong Kong Dividend Growth stocks
Yes for FREE, no spam.