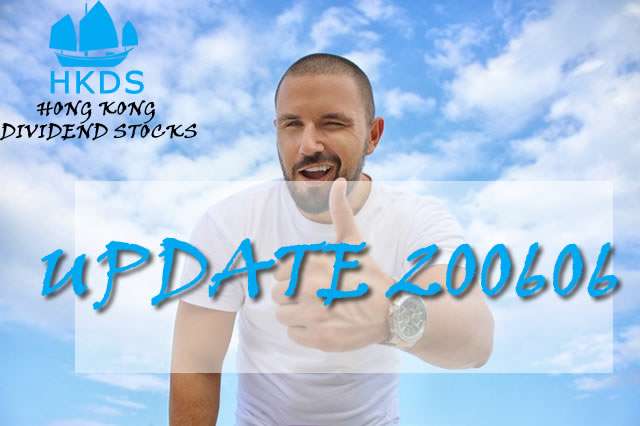 2 mins read
200606 Update Hong Kong Dividend Growth stocks
This is the newsletter you get if you sign up (FREE) below to see the stock screeners favorite this week. You also get to immediately download the 25 highest yield Dividend Growth Stocks.
If you need a deeper level and full spectrum of all Dividend Growth Stocks and Blue Chip Stocks of Hong Kong including the stock screener to optimize your (or your clients portfolio), it is recommend to become a Champion member.
In this update:
Dividend announcements
New Dividend Challenger added
New added metric in the Directory of all Hong Kong Dividend Growth stocks:
Blue Chip Value Insights
HSI compared to January 1
 Dividend Growth announcements in the past week
Link REIT (0823.HK) HK$ 1.4572 Final Div + 5.9%
The company booked a loss over 2019/2020. Mainly due to the loss of fair value of their properties not to loss of revenue. See page 29 of their powerpoint presentation.
New Dividend Challenger:
CITIC (0267.HK)
a Hong Kong Blue Chip with 5 consecutive years of dividend increases.
New added metric in the Directory of all Hong Kong Dividend Growth stocks:
Price to Book ratio. (P/B Ratio) This is the price of the stock divided by the book value. This metric helps to find stocks that are undervalued of overvalued.
Another metric to look at in the P/E value (Price to Earnings) depending on your flavor anything higher than 15-20 is overvaluing a stock.
P/E ratio's are also mentioned in the list of 25 Hong Kong Dividend growth stocks with the highest yield. (See the update below.)
HSI compared to January 1, is now at a mild -13%
Blue Chip Insights
-Blue Chip stocks are down average 14%
-Biggest loser: China Unicom 0762.HK) -37% since January 1
-Biggest winner: 1177.HK Sino Biopharm +25%
Sign up: [yikes-mailchimp form="1″]
Instantly get your spreadsheet of the 25 Highest yield Hong Kong Dividend Growth stocks
Yes for FREE, no spam.