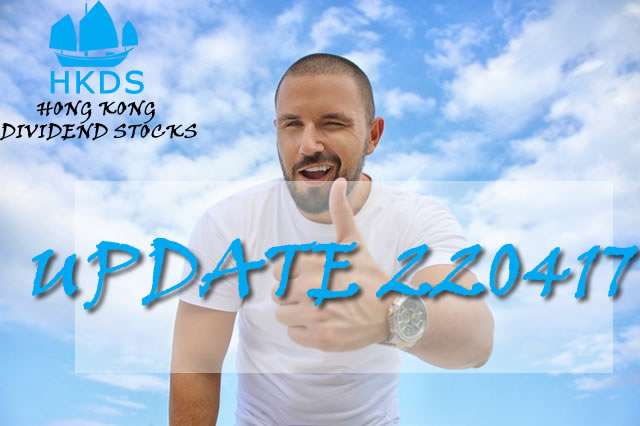 6 mins read
220417 Update Hong Kong Dividend Growth Stocks
This is the newsletter you get if you sign up (FREE) below to see the stock screeners favorite this week. You also get to immediately download the 25 highest yield Dividend Growth Stocks.
If you need a deeper level and full spectrum of all Dividend Growth Stocks and Blue Chip Stocks of Hong Kong including the stock screener to optimize your (or your clients portfolio), it is recommend to become a Champion member.
Happy Easter.
What is this mail about;  We look at the data of only Hong Kong  Blue Chip companies and all the Hong Kong Dividend Growth Companies.
What are Dividend Growth Stocks??  They are HK listed companies that have
5 years or more of dividend increases
5 yr dividend growth rate of 0.001 or higher.
Based on a lot of data we look for good opportunities for Dividend Income creation and Value Investing .  (Dividend Growth, Risk of not getting any Dividends and Value for Price)
Warning reading time of this email: 3 minutes. But you will come out smarter!
 This weeks news, New Contenders
 The 25 highest yield dividend growth stocks.
New on the website: resent dividend cuts, be aware!
Hong Kong Dividend Growth Stocks averages on April 15, 2022:
Great links you can not miss out on
If you are planning on investing in yourself and in building the best possible portfolio that generates dividend income and growth in total value, the Champion Membership can get you on your way. Data, for Discovering hidden treasures and making calculated Decisions.
If you have special request for data sets. Just let me know, ASAP. Just send me an email. It would be fun to make customized files.
– This week's results.
There are 2 new Dividend Contenders. (10 consecutive years of announcing increases in Dividends to shareholders):
HKG:3360 Far East Horizon  1-year dividend growth 16%. 5-year dividend growth 13%. Yield 5.9%
HKG:1972 Swire Properties   1-year dividend growth 4%.  5-year dividend growth 6%. Yield 4.7% Although Swire is into Property Investment, their liability ratios seem on the good side.
And most remarkable: Both companies never decreased their dividends! Go and check their charts.
Another stock that got my attention is HKG:1177 Sino Biopharm. Their numbers on 2021 look fine. Yield and dividend growth are not where I would like to see it, BUT we are looking at a Blue Chip company here. One metric that stands out is their Return on Equity.
1-What is RoE? It is Net Income/shareholders equity.
2-What does it mean? It means how well the company is using the money paid by shareholders (for their shares) in using that for making profit. Let's say net income is 1000 and shareholders equity is 100, the Return on Equity is 10.
Out of every dollar paid by the shareholders, 10 dollar profit is generated. (uber-simplified, but you get the meaning, right?)
If there is not enough money made from equity, the chances of us getting dividends are slim. Dividends normally come from profit. More equity than money to be divided, is trouble. Maybe not right away, but companies can not keep paying dividends out of their reserves.
3- What is a good RoE number? Normally any number above 10 is wonderful.
In the case of HKG:1177 Sino Biopharm. The RoE in 2021 was 48. Every dollar in shares made them 48 dollar. Good deal!
That and the indicators for Value became favorable since 3 weeks. And you know how we like those Value numbers when we look t Blue Chips. There might be an opportunity in the air.
-The 25 highest yield dividend growth stocks
are updated. that .xls file you will find on the free members page and the Champion members page.
Last week also Sunac HKG:1918 dropped of this list of 25 highest Dividend Growth Stocks. They got suspended.
This means that slowly the Property Developers are out of the list.
What is remarkable now is the fact we have 5 companies in this list (of 25) that maneuver in the field of Telecom.
You can download this free file here
-Kind reminder: New on the website:  dividend cuts, be aware!
As you just read, there are a lot of companies that were on the complete list of all Hong Kong Dividend growth stocks, that made an unpleasant decision on their payouts. These companies are listed in 1 place now. See here the post Recent Dividend Cuts, it is updated weekly.
Champion Members: Your file with the complete list got an extra tab, all companies that recently cut their dividends are in there. They are no longer in the complete file.
Hong Kong Dividend Growth Stocks averages on April 15, 2022,
Of all Hong Kong Dividend Growth stocks:
The average yield of all companies in the Directory is almost 5.3% .
Of all these stocks the average 5-year-average-dividend-growth is 21%
1-year-average Dividend growth is 15%
When we do: yield 5.3% x growth 21% => 10%-Yield-on-Cost will be in 5 years.
Average Price-to-Earnings ratio (P/E) is: 9,
Great links you can not miss out on:
Download 25-Highest-yield Dividend Growth Stocks
If you have a question, recommendation, or bright idea, be sure to let me know. Just reply to this email.
Wishing you a happy day,
Petra @ Hong Kong Dividend Stocks
One more thing: to keep track on all things Hong Kong Dividend and Blue Chip stocks, it is highly recommended to follow HKDS at
Click and keep in touch easily with HKDS!
Instantly get your spreadsheet of the 25 Highest yield Hong Kong Dividend Growth stocks
Yes for FREE, no spam.