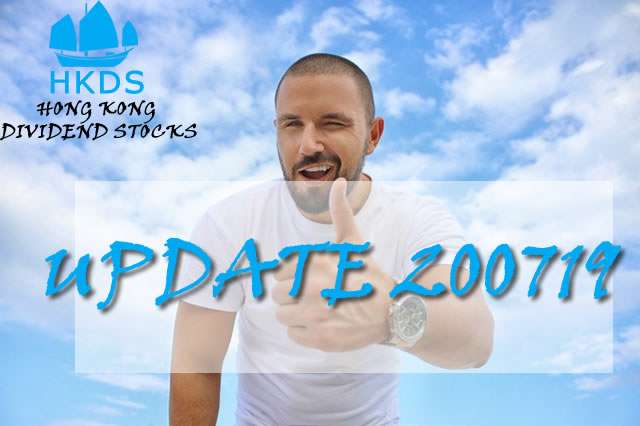 3 mins read
200719 Update Hong Kong Dividend Growth stocks
This is the newsletter you get if you sign up (FREE) below to see the stock screeners favorite this week. You also get to immediately download the 25 highest yield Dividend Growth Stocks.
If you need a deeper level and full spectrum of all Dividend Growth Stocks and Blue Chip Stocks of Hong Kong including the stock screener to optimize your (or your clients portfolio), it is recommend to become a Champion member.
In this update:
This weeks Top 5. Price to book ratio, who is the best?
Dividend announcements,
Blue Chip Value Insights
HSI compared to January 1, things start to look better
Updated (200718) the 25 highest yield dividend growth stock on the Hong Kong index
For Champion and Contender Members, The Vault access to the Directory and more…
This weeks Top 5
In this weeks top 5 we look at Price to Book ratio, P/B. This is price divided by book value of a stock. It is one of the metrics that can tell you if the stock is underpriced or overpriced.
Book value is calculated like this:
(Assets-liabilities) / number of common shares
Example, of a certain company the price of 1 share is $25, and book value says $15 per share. Obviously, the book value is lower than the price. So we come to this calculation $25/$15= 1.666
Short quiz:  Company Peachy has a book value per share is $125, you check the stock and find the price of this share is now  $45.
Is this an indication that the stock is
A- overpriced
B- underpriced
Back to the Top 5. These are the companies with the lowest P/B Ratio
This is a segment of The Directory of all Hong Kong Dividend Growth Stocks
 Dividend Growth announcements in the past week
Nothing to report
HSI compared to January 1, is now at a steady -12%
Blue Chip Insights
-Blue Chip stocks are climbing to a proud  -8%
-Biggest loser: Swire Pacific 0019.HK) -43% since January 1
-Biggest winner: New World Development 0017.HK  +251% (yes, double checked it)
A (free) more detailed list of the Blue Chips you will find when pressing the Blue Button below.
For Champion members, the purple button in The Vault will show you the updated (200718) Blue Chip Value Insights.
Follow HKDS also on:
Twitter
Facebook
Instagram
Pinterest
Thank you, it will be more fun with you there!
To become a Contender or Champion member and have access to
the Complete Directory and website ,
GO HERE
Instantly get your spreadsheet of the 25 Highest yield Hong Kong Dividend Growth stocks
Yes for FREE, no spam.