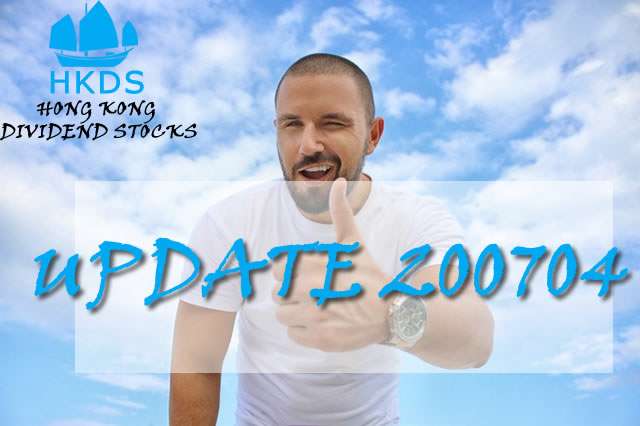 2 mins read
200704 Update Hong Kong Dividend Growth stocks
This is the newsletter you get if you sign up (FREE) below to see the stock screeners favorite this week. You also get to immediately download the 25 highest yield Dividend Growth Stocks.
If you need a deeper level and full spectrum of all Dividend Growth Stocks and Blue Chip Stocks of Hong Kong including the stock screener to optimize your (or your clients portfolio), it is recommend to become a Champion member.
In this update:
This weeks Top 5. Who pays the most $$$?
Dividend announcements,
New Challengers added
Blue Chip Value Insights
HSI compared to January 1, things start to look better
This weeks Top 5
In this weeks top 5 we look at the companies that pay the most HK$. This has nothing to do with yield. Yield is the percentage of the price (you paid) . This top 5 is about the highest payers.
Hang Seng wins, with a HK$ 7.50 per share.
For the complete picture, the lowest amount you can get from these Dividend Growth Companies (DGC) is HK$ 0.01 per share per year. (still yielding at 3.3%)
This goes to show contrast in yield (%) and cash ($) . High yield does not always mean a lot of cash flow.
 Dividend Growth announcements in the past week
China Water (00855.HK) HK$ 0.16 Final 7% growth
Far East Consortium (0035.HK) HK$ 0.15 final -13% growth
Winfair (0287.HK) HK$ 0.14 final 0% growth
Far East Consortium (0035.HK) will be removed out of the Directory in the coming week.
New Challengers added to the Directory:
Oriental watch 0398.HK
SH Ind Urban 0563.HK (weirdest dividend chart ever)
HSI compared to January 1, is now at a mild -11%
Blue Chip Insights
-Blue Chip stocks are down average -13%
-Biggest loser: Swire Pacific 0019.HK) -43% since January 1
-Biggest winner: 0700.HK Tencent +37%
Follow HKDS also on:
Twitter
Facebook
Instagram
Pinterest
Thank you, it will be more fun with you there!
  To become a Contender or Champion member and have access to
the Complete Directory and website ,
GO HERE
Wishing you a fruitful weekend,
Petra @ Hong Kong Dividend Stocks
Instantly get your spreadsheet of the 25 Highest yield Hong Kong Dividend Growth stocks
Yes for FREE, no spam.