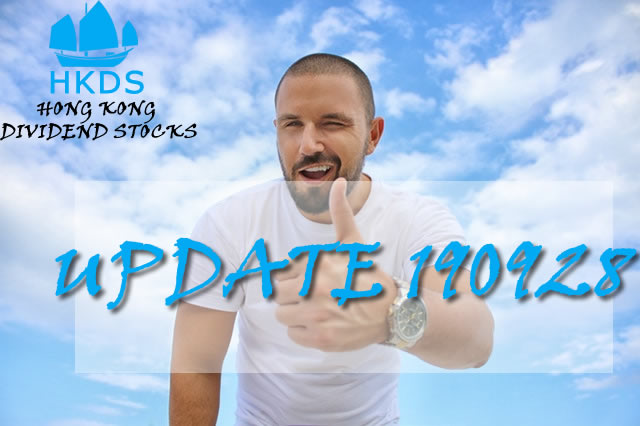 1 min read
190928 Update Hong Kong Dividend Growth stocks
This is the newsletter you get if you sign up (FREE) below to see the stock screeners favorite this week. You also get to immediately download the 25 highest yield Dividend Growth Stocks.
If you need a deeper level and full spectrum of all Dividend Growth Stocks and Blue Chip Stocks of Hong Kong including the stock screener to optimize your (or your clients portfolio), it is recommend to become a Champion member.
In this update:
Dividend announcements of the past week!
Welcome to the New challenger
This week there are 47 companies that yield 5% or more!
Updated (190928) the 25 highest yield dividend growth stock on the Hong Kong index
For Premium Members: updated list (190928) of 122 Companies, that keep on raising their dividends
Dividend announcements of the past week
Not that many dividend announcements last week that matter to the companies that we follow. Yet these 2 are diamonds on their own.
Cheuk Nang (0131.HK)  HK$ 0.15 +0% final
New World Development (0017.HK) HK$ 0.51 6.25% final
Welcome to the new Dividend Challenger:
This week there are 47 companies that yield 5% or more!
This might be a new record. You can find them all here LINK
Of course you can see all Dividend Growth Companies in 1 list by becoming a premium Member. For US$ 8.25 per month (paid annually US$99.00)
**NEW** pay fast and easy by FPS 
Wishing you a productive week,
Petra @ Hong Kong Dividend Stocks
Instantly get your spreadsheet of the 25 Highest yield Hong Kong Dividend Growth stocks
Yes for FREE, no spam.