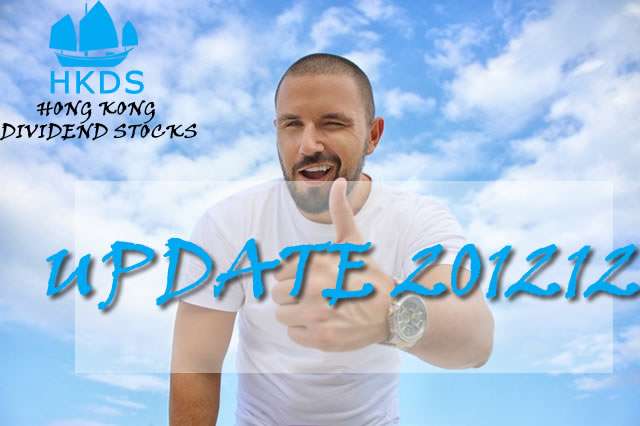 4 mins read
201212 Update Hong Kong Dividend Growth stocks
This is the newsletter you get if you sign up (FREE) below to see the stock screeners favorite this week. You also get to immediately download the 25 highest yield Dividend Growth Stocks.
If you need a deeper level and full spectrum of all Dividend Growth Stocks and Blue Chip Stocks of Hong Kong including the stock screener to optimize your (or your clients portfolio), it is recommend to become a Champion member.
In this newsletter:
Look at that magical word Compounding
Dividend announcements,
Highlights straight out of the HKDS Directory What's on sale this weekend?
Hong Kong Dividend Growth Stocks averages
This week, let's take a look at that magical word
DIVIDEND COMPOUNDING
5-minute explainer, level: easy | simple | FUN
What does that mean for you, the unbeatable Dividend Growth Investor?
In business you can imagine the compounding force like this:
You buy a machine, that people only use every now and then and are reluctant to buy, because they only use it once or twice a year. People rather spend money renting the machine (from you) than to own it themselves.
This machine you bought for $1000,00
You rent is out for $25.00 a day.
The circumstances are fortunate and you can rent it out every day. So in how many days you have earned your $1000 back?
This is no rocket-science : $1000/$25 = 40 days it takes for you to have the $1000 back in your pocket.
You are smart, you buy your second machine. Whoop whoop, that one gets rented out also every day.
How many days does it take for your 2 machines to get that $1000 back in your pocket?
1 day gives 2* $25= $50.00
 $1000/$50 = 20. Awesome, now in 20 days  your have earned your money back.
You buy the third machine, what will happen? How many days to get your money back?
3* $25= $75 a day.
$1000/$75= 13.33 days.
In 14 days you are ready to grow your business because the money is coming in faster. That is the compounding effect.
Replace the Machine by stocks and the rental fee is your dividend. You use that income to buy more quality Dividend Growth stocks to earn more income faster.
Ho, wait, in the above machine example I left out the Growth element.
Let's add Growth in your income:
Every 10 days you raise your price with 10%. This is the Growth factor of your investment in income. (Extremely exaggerated,but come on, bear with me.)
Day 1-10 $25 a day
Day 11- 20 $27.50 a day
Day 21-30 $30.25 a day
Day 31-40 $33.28 per day.
Due to raising the daily rental price, on day 35 your have $1000 back in your pocket. Now you can buy your second machine already on day 36 instead of day 40.
This is exactly what the Dividend Growth factor does to your portfolio. More and more income, faster, like a Snowball.
Who can say no to that?
Dividend Growth announcements in the past week
PokFuLam (0225.HK) HK$ 0.34 +0%  Final Dividend increase
Melbourne Enterprises (0158.HK) HK$ 2.80 +0%  Final Dividend increase
Here the list of all upcoming dividend ex-dates for Dividend Growth stocks in Hong Kong.
Highlights straight out of the HKDS Directory
Hong Kong Dividend Growth Stocks averages:
The average yield of all companies in the Directory is 4.89% .
Of all these stocks the average 5-year-average-dividend-growth is 21.95%
When we do:  yield 4.89% x growth 21.95% => 10%-Yield-on-Cost will be in 5 years.
Average Price-to-Earnings ratio (P/E) is: 13.50
Instantly get your spreadsheet of the 25 Highest yield Hong Kong Dividend Growth stocks
Yes for FREE, no spam.