Meet the Dogs of the Hang Seng 2020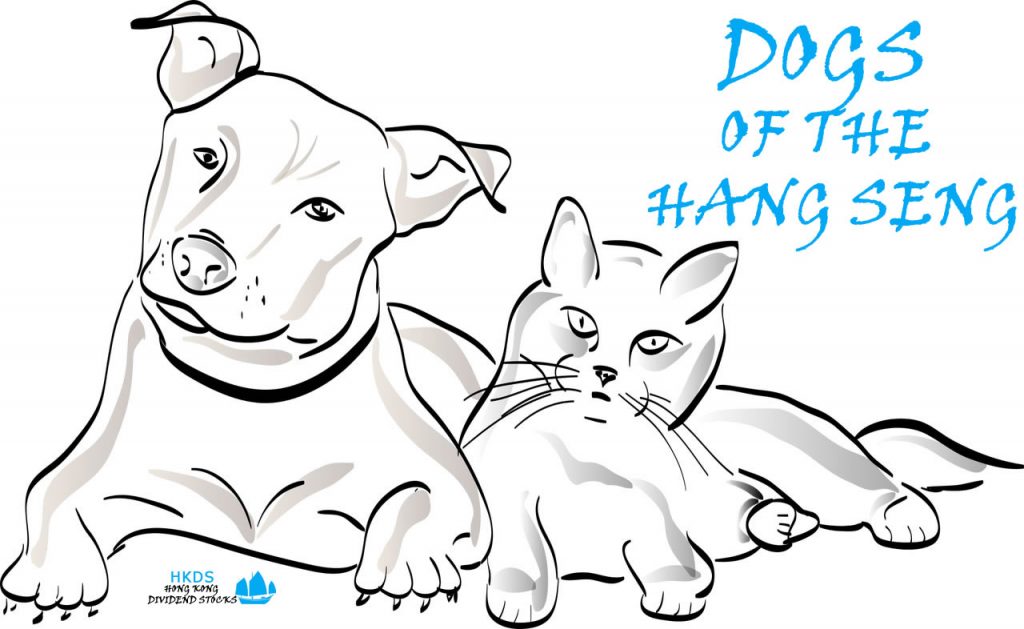 January 1, 2020
2020 just started and a new year of investing opportunities in opening up.
First we look at the Dogs of the Hang Seng for this coming year.
What are the dogs of the Hang Seng 2020?
An introduction: There are 50 blue chip companies, the Constituents. Those are the well recognized, established and financially well doing companies on the HSI. It is speculated that their stocks go up, what might make them good low risk investments.
Of these 50 we pick the top 10 that generate the highest yield. this brings the speculation of rising asset worth and income generation. A Double Win.
The aim here at HKDS is to see if this portfolio is doing better than the top 10 Dividend Growth Stocks (The Cats) and the HK Index in general. (Does this portfolio beat the market?)
The procedure:
Step 1, on the first day of  the new year, you buy for an equal amount each of these 10 stocks. In our example we use HK$ 10.000 per company.
Step 2, do nothing until the last day of the year. Sell and calculate you profit of loss.
Step 3, repeat.
So here are our Dogs of the HKEX for 2020
| | | | | | |
| --- | --- | --- | --- | --- | --- |
| Ticker | Company | Yield | Start Price | Invested HK$ | How Many stocks |
| HKG:0386 | SINOPEC CORP | 10.20% | 4.69 | 10000 | 2,132.20 |
| HKG:0005 | HSBC HOLDINGS | 6.57% | 60.85 | 10000 | 164.34 |
| HKG:3988 | BANK OF CHINA | 6.29% | 3.33 | 10000 | 3,003.00 |
| HKG:3328 | BANKCOMM | 6.17% | 5.54 | 10000 | 1,805.05 |
| HKG:1088 | CHINA SHENHUA | 6.16% | 16.28 | 10000 | 614.25 |
| HKG:2388 | BOC HONG KONG | 5.43% | 27.05 | 10000 | 369.69 |
| HKG:0883 | CNOOC | 5.40% | 12.96 | 10000 | 771.60 |
| HKG:0857 | PETROCHINA | 5.21% | 3.91 | 10000 | 2,557.54 |
| HKG:0939 | CCB | 5.18% | 6.73 | 10000 | 1,485.88 |
| HKG:0006 | POWER ASSETS | 4.91% | 57 | 10000 | 175.44 |
More Hong Kong Dividend & Blue Chip news, follow: