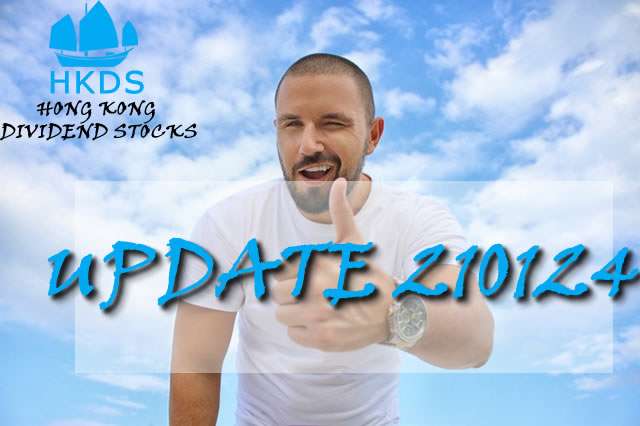 3 mins read
210124 Update Hong Kong Dividend Growth stocks
This is the newsletter you get if you sign up (FREE) below to see the stock screeners favorite this week. You also get to immediately download the 25 highest yield Dividend Growth Stocks.
If you need a deeper level and full spectrum of all Dividend Growth Stocks and Blue Chip Stocks of Hong Kong including the stock screener to optimize your (or your clients portfolio), it is recommend to become a Champion member.
This is the newsletter that has been send out on January 24, 2021.
In this Update:
Dividend announcements,
Highlights straight out of the HKDS Directory What's on sale this weekend?
The Stock Screener result of this week: There is something special that came out of the Stock Screener this week
Hong Kong Dividend Growth Stocks averages
Updated (210122) the 25 highest yield dividend growth stock on the Hong Kong index
For Champion Members, The Members Page access to the updated Directory and more…
Dividend Growth announcements in the past week
There were no announcement about dividends last week. There were profit warnings:
MTR CORPORATION (00066.HK)  issued a profit warning, expecting the Group to report a net loss of around HK$4.8 billion.
SITC (01308.HK)  has issued a positive profit alert, expecting that the Group will experience a substantial increase between 50% to 60% in its consolidated net profit.
Here the list of all upcoming dividend ex-dates for Dividend Growth stocks in Hong Kong.
Highlights straight out of the HKDS Directory
The Stock Screener's favorite of the week is:
There is something special that came out of the Stock Screener this week. This is a once in a blue moon  There is one company that is a Blue Chip stock AND a Dividend Growth stock that rolled out on top.
For the Blue Chip shares, you know the companies that are well-known and well-established, it is common that these shares are overvalued. This can be from market sentiment and not so much from interpreting the data.
There are 2  reasons why you should monitor the Blue Chips on Value metrics:
1- to spot the bargain. and not pay a price that is too high
2- the dividends come as an bonus but are not a priority in validating these companies. You aim for the stock value to go up.
There is a group in the Blue Chip arena that also falls into the Dividend Growth Directory. Imagine making a portfolio with only those stocks.
more dividends and growing value combined, wow!
The company that rolled out this week appears of good value,
Dividend Yield is over 7%,
P/E and EPS are favorable.
See this weeks winner: Citic HKG:0267
Hong Kong Dividend Growth Stocks averages:
The average yield of all companies in the Directory is 4.95% .
Of all these stocks the average 5-year-average-dividend-growth is 21.83%
When we do:  yield 5.21% x growth 21.83% => 10%-Yield-on-Cost will be in 5 years.
Average Price-to-Earnings ratio (P/E) is: 13.19
Average Earnings per Share (EPS) is: 0.96
Updated: 25 Dividend Growth stocks with the highest yield
The blue button below will get you to your latest download.
Wishing you a fruitful week,
Petra @ Hong Kong Dividend Stocks
Instantly get your spreadsheet of the 25 Highest yield Hong Kong Dividend Growth stocks
Yes for FREE, no spam.