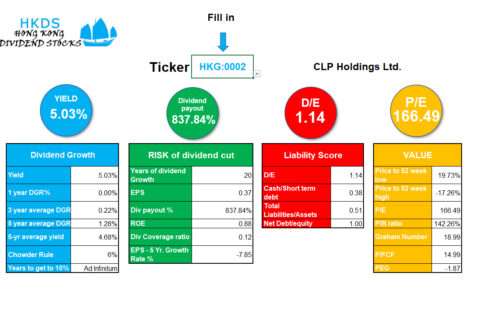 2 mins read
Stock picking made so easy.
This is an explainer about The Directory of all Hong Kong dividend growth stocks.
Some basics first
This Directory :
has been vetted for 7 years and will be for the years to come
will be updated weekly
And is accessible for all Champion members.
A plain list of data can be overwhelming and confusing. That is not helpful if your are in the process of building a strong portfolio that generates also an income from dividends for you or your clients.
This called for a solution that would make stock picking way easier than numbers only.
Now, with striking colors you can find the metrics used to define the 3 categories a stock is measured:
dividend GROWTH,
RISK in dividend cuts and
VALUE.
And not only that. As you see below, in the Directory we also look at dividend Forecast, Liabilities and the Interim (mid-year) results.
The second sheet of the Directory brings the most frequent used metrics of a company.
Just fill in the ticker number of the dividend growth stock you wish to explore.
 Introducing the Stock Screener
Easy & Simple
The fast way of picking your next buy
based on
Dividend Growth | Reduced Risk | Value for Price
For more info about the Champion Membership check out this page Become a Member.
Or go here, and start in 5 minutes
All for less than US$4.00 per week.