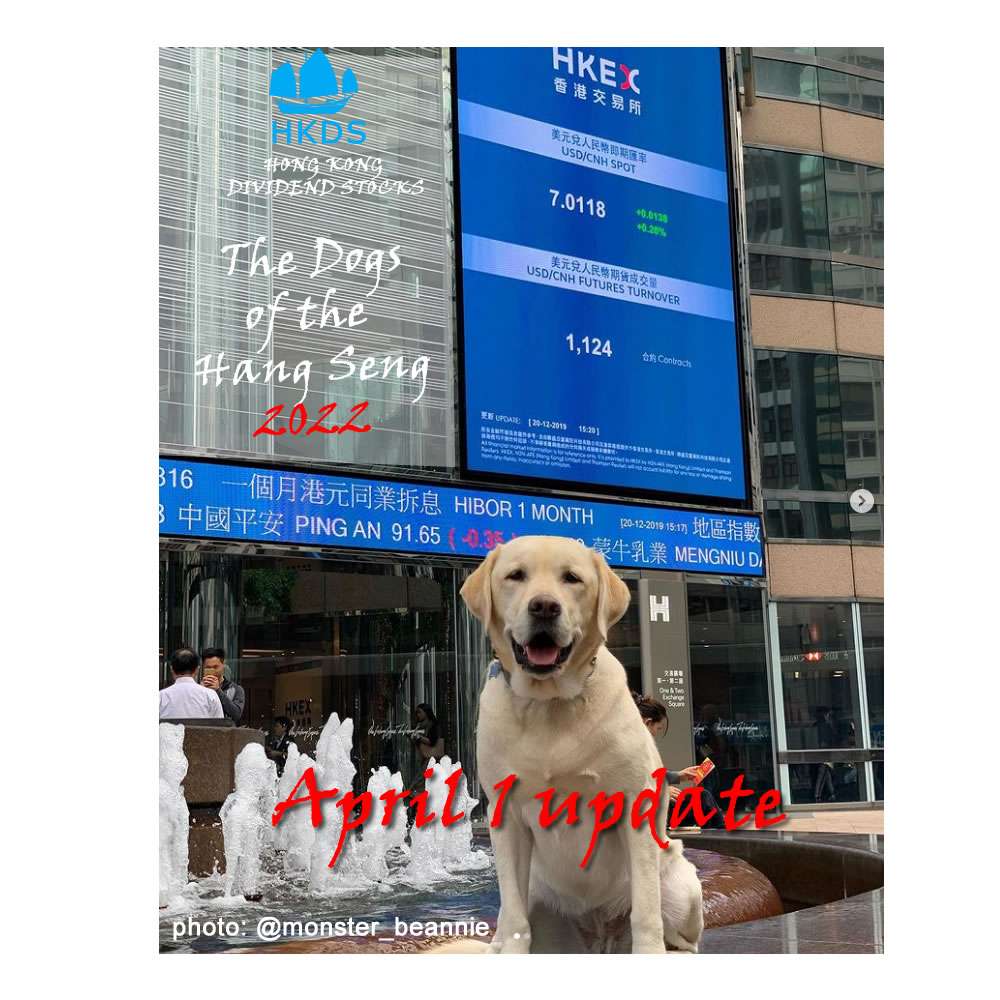 2 mins read
April update Dogs of the Hang Seng 2022
The file with details is downloadable for  newsletter you get if you sign up (FREE) below to see the stock screeners favorite this week. You also get to immediately download the 25 highest yield Dividend Growth Stocks.
If you need a deeper level and full spectrum of all Dividend Growth Stocks and Blue Chip Stocks of Hong Kong including the stock screener to optimize your (or your clients portfolio), it is recommend to become a Champion member.
Photo Credit: @monster_beannie
A super special and exclusive update from Hong Kong Dividend Stocks.
Reading time of this post: 1 minute.
– What are the Dogs of the Hang Seng?
– How did the Hang Seng do these first 3 months of 2022?
– The Results
– Download available
What are the Dogs of the Hang Seng?
They are the brothers of the Dogs of the Dow (Jones).
It is an (hypothetical) portfolio filled with Blue Chip stocks that hold the highest yield on January 1 of each year. The total portfolio hold the starting value of  $100,000.00 divided in 10 equal part of $ 10,000 spend on each listing that qualifies.
Working Theory is that, because of their Blue Chip status and their dividends this should be a 'winning' portfolio.
On December 31 you sell them and buy the new 10 highest yield Blue Chip stocks, rinse and repeat.
You can see the results of the Dogs of Last year here
On January 1 we had these 10 Blue Chip companies being 'The Dogs of 2022'
First off: How did the Hang Seng do these last 3 months?
Good question to start and to benchmark any comparison. What did the market do?
On January 1, 2022 the HSI was: 23,274.75
On April, 2022 it opened at: 21,693.10
Oh wow, the Hong Kong Stock market decreased : -6.8%% !
The Results of the Dogs, first 3 months in 2022:
Low and behold, astonishing results:
If you would have bought these shares according the instructions above, you would have gained 8%
If you take the collected dividends to account, your would  experience an increase of 14%
Too crazy actually.
Sign up for the newsletter below, download the result .xls file (free) and see for yourself. Who the dogs are for 2022 and which of the Dogs went up more than 25%!
The newsletter is  1 email per week which features the Hong Kong Dividends growth stocks and Blue Chip companies.
This might become an interesting year, if things continue in this direction!
Instantly get your spreadsheet of the 25 Highest yield Hong Kong Dividend Growth stocks
Yes for FREE, no spam.