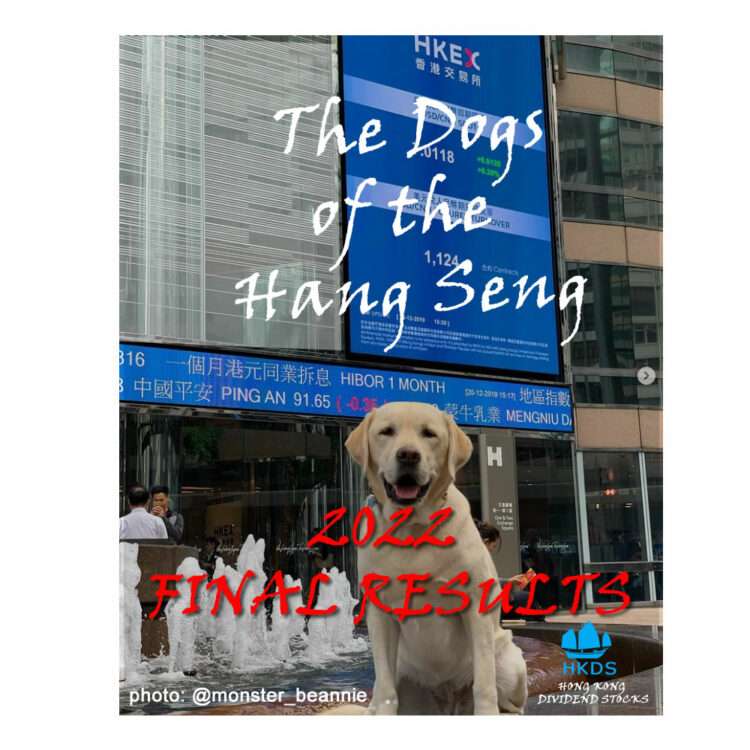 3 mins read
How the 2022 Dogs of the Hang Seng performed
In the previous post the 2023 Dogs of the Hang Seng were introduced. These are the ten Blue Chip companies that hold the highest yield over their last financial year on January 1, 2023
Now let's take a look how the 2022 Dogs of the Hang Seng performed.
(This 'Dogs' phenomenon is inspired by the Dogs of the Dow concept. More about that over here)
In previous years we saw that:
2021 was a good year for the dogs + 21% in total
So it can go well and it can go bad with this way of picking your portfolio.
Now let's see how the 2022 Dogs of the Hang Seng performed.
The following table is a capture of the results ending 31 December 2022.
The last row is an ETF HKG:3110 that is specialized high dividend stocks. You can read the details here .
It is there for comparison reasons only, not investment advise and HKDS has no affiliation.
This ETF is build with many Blue Chip and Dividend growth companies and there for most ideal to set the results against our dogs of the Hang Seng.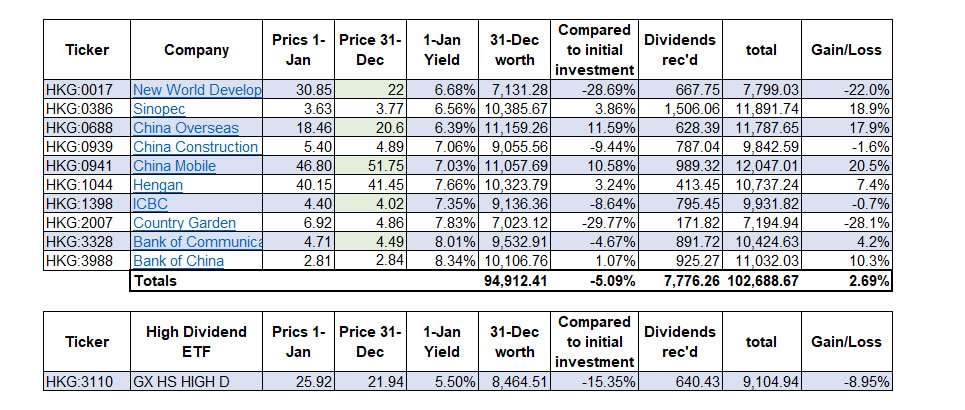 What do we see:
The total investment of HK$ 100.000 went down over 5%. That is not good. Luckily this was compensated with dividends received in 2022. Total amount of that was HK$ 7,776.26
When we add that amount to the value of the total in vested amount on December 31, we still have a gain of 2.7%! Woohooo for the 2022 Dogs of the Hang Seng.
And indeed, not too bad, total gain 2.7%, because if we look at the high dividend ETF mentioned above, we see they had a fall back including dividends of almost 9%!
Compared to the ETF is is even a jolly good result.
What did the Total stock market of Hong Kong do?
On January 1 it started at 23,397
On December 30 it closed at 19,781 . That is a decline of 15% . So the Dogs of 2022 performed better that the market when it comes down to stock value. Remember? With the dogs we saw a decline of only 5%
The excel file that shows how the 2022 Dogs of the Hang Seng performed is downloadable for subscribers and Champion Members.
If you haven't yet, you can sign up (free) below here and after confirming your email address you will be redirected to the page for your free downloadable information on how the 2022 Dogs of the Hang Seng performed. (It will take you less than 2 minutes)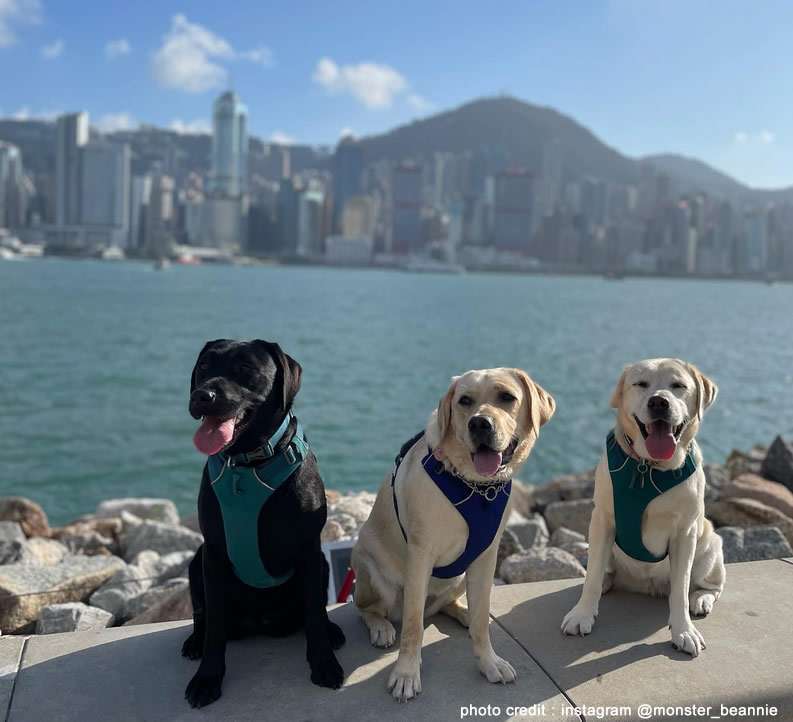 One more thing..
A special thanks to Monster_beannie who made this wonderful photo's that were used to give a friendly face to the Dogs of 2022.
Instantly get your spreadsheet of the 25 Highest yield Hong Kong Dividend Growth stocks
Yes for FREE, no spam.