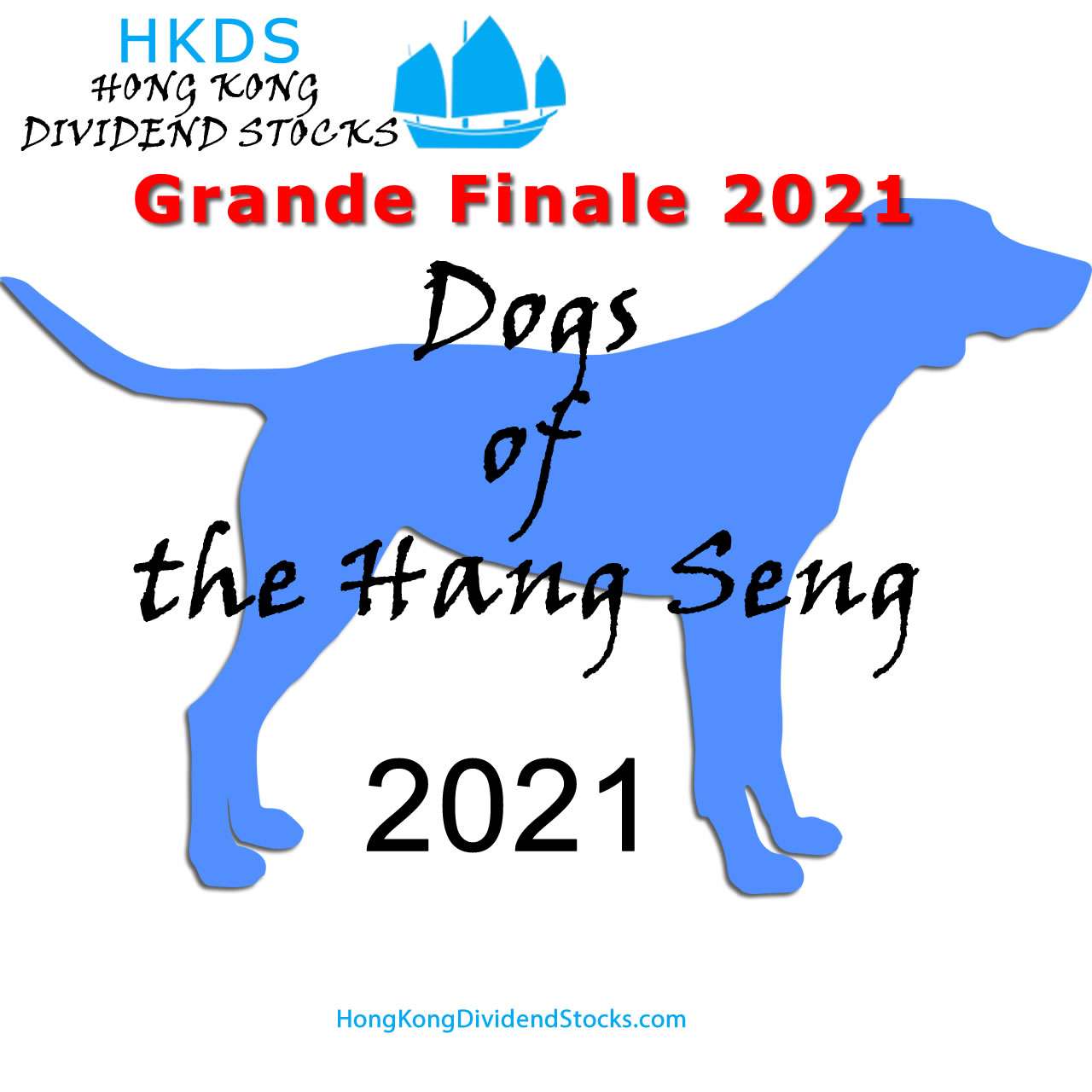 3 mins read
Dogs of the Hang Seng Final Results 2021
For the second year we follow an interesting investment strategy that grew out of  an idea that is named the Dogs of the Dow.
The dogs of the Dow (Jones) are those 10 highest yield Blue Chip stocks. It is to be proven that they give for 1 year the best dividends and because of that the investment will gain value over the time of 1 year.
We applied the same principles with the Blue Chips listed on the Hang Seng Index.
Goal: See if this  it a winning investment strategy

The rules:
On January 1, pick of all Blue Chip companies the top 10 with the highest yield.
For sake of proper simulation of this portfolio, buy for HK$10.000 of each listing their shares. Total investment at the beginning of the year will be HK$100.000
Let this portfolio sit still for 1 year. Do not sell or buy any more. Let dividends come in.  Stay calm under any circumstance. ( This might be the most difficult part)
On January 1 next year sell all and buy the next set of Dog companies.
Back to December 2021. How did the Dogs of the Hang Seng perform.
We started with this introduction in January 2021. Then a revisit in July that looked like this. Out of curiosity we did that again in October. It looked pretty promising.
This year one of the Dogs was denominated as a Blue Chip. Swire HKG:0019. Due to rule #3 no action was taken.
A little bit of comparison: How did the Hang Seng do in 2021?
On January 1, 2021 the HSI was: 27,231.13
On Dec 31, 2021 it closed at: 23,397.67
Oh wow, the HSI decreased 14% !
Bring in the Dogs:
On January 1, Initial investment of HK$ 100,000.00
On December 31, it would now be worth HK$ 115,566.31
And hopla, that is an INCREASE of 15% of your money! But wait, there is more..

The nectar of stock investments: Dividends!
This portfolio would have brought you HK$ 8,106.25 cash flow! And that means you managed to get a 8.1% yield on costs!
To top this excitement all off , the 15% increase of principal investment and received dividends combined makes that the Dogs of the Hang Seng 2021 made you 23%  richer on December 31.
If we compare 2021 to 2020:
The year 2020 was not a good year. Dogs took a big hit. 2021 turned that around!
For the complete results in .xls. They are on the Free members page. You only have to sign up (free, of course) and and email will be send to you with the right link.
Instantly get your spreadsheet of the 25 Highest yield Hong Kong Dividend Growth stocks
Yes for FREE, no spam.